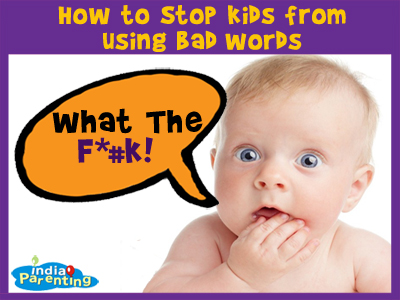 How do you react when your innocent little child suddenly begins to use dirty words? For tips on dissuading your child from using foul language, read on.
Children don't always understand the meaning of abusive words. Although they realize that the words may be derogatory, they cannot relate to how 'bad' a word may be and if it is worse than
abusive words
like stupid or idiot. One way they can gauge this is by your reaction. If you ignore him when he uses a bad word, he may think it is okay. If your reaction is moderate, he may enjoy the attention, especially if he is very little, and may say it again and again. Coping with this can, therefore, be a little tricky.
Reacting with amusement
3-year-old Pratham was very fond of saying the word "Potty." He heard a friend say it at school, and when he said it at home the word evoked an instant reaction of amusement. His mother was trying to teach him a few spellings, when he said out loud "I can spell potty, p.o.t.t.y!" It seemed so funny at the time, his mother burst out laughing. And from then on, Pratham kept shouting out the word to everyone, and they all had similar amused reactions. They would then tell him not to say it, but naturally he wasn't going to give up the attention. Pretty soon his parents realized the best way out was to ignore him when he uses it. Before long, Pratham got bored and stopped using the word.
Having a stern talk
One effective way to get younger children out of saying abusive words is to ignore them. However, if the word is very abusive and you certainly don't want your child to say it again, then you should consider having a stern talk with him.
When talking to your child, make sure he is looking at you. You don't have to be very angry, simply be firm. If you lose your temper, your child will again tend to get rebellious. Make eye contact and tell your child firmly that he should never use the word again. Ask him if he has understood what you have said, and tell him to repeat your instructions. Let him know that you are serious, and tell him that when he uses a word like that, it reflects badly on you. Not many children will like that.
Using punishments or physical force sparingly
Talk to your children about how cursing or swearing shows bad breeding. Put up a swear jar, and insist that your child put a pre-decided amount of money from his pocket money into the jar every time he uses dirty words. You can even decide to ground your child, or bar him from watching television, etc. to discourage your child from spouting obscenities ever again.
For older children, you may decide to be more firmer. Mamata had never laid a hand on her children. Then one day she heard her 9-year-old son shout out a strong abusive word to his younger brother. Mamata went and slapped him across his face (not very hard though) saying that she never, ever wants to hear him use the word again. Needless to say, her son was stunned, and Mamata never heard him use that abusive word again.
There is something to be said for abstaining from hitting your child. If you generally never hit your child and one day you smack him, he realizes that he must have done something terrible indeed. But if hitting him becomes a regular punishment, it ceases to be effective and becomes more of a bullying tactic. Your child's self esteem will suffer, and he will tend to grow rebellious and aggressive. Spanking will soon start seeming to be a natural form of punishment to your child and will cease to have the effective power you would like it to.
Parroting elders and movie characters
You have to be careful not to curse in front of your children. Kids love to copy everything that adults do, and if they hear you cursing, they will do the same. The next time your phone rings while you are upto your ears in poopy diapers and dolls, don't mutter "dammit." Sigh or make a scary "aaargh" sound instead. Make it a habit to prevent your child from learning dirty words from you. Before taking your child for a movie, look up its rating. If the rating states that the movie has some foul language, think about whether or not you should take your child for it. If you do take your child for a movie, talk to your child after the movie and do all you can to deglamourise swearing without making it seem like a big deal.
Does your child use bad words? How should parents react when their child uses dirty words? How can one discourage their child from using foul language? Discuss here.