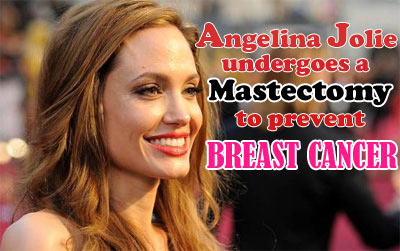 A Mastectomy, i.e. removal of the breasts is a life-altering decision made by those suffering from or at risk of developing breast cancer. Read on to find out what it involves, who should get it done, what other options are available and everything else that will help you make an informed decision.


The baneful repercussions of breast cancer were brought to the forefront by Angelina Jolie's heartrending disclosure that she underwent a preventive double mastectomy after she tested positive for a faulty gene that greatly increased her risk of developing breast cancer.
Such is the fear of the havoc that breast cancer can wreck on one's life, that women prefer to have their breasts removed rather than risk waiting around for the disease that may or may not even affect them in the future.

So, What is a Mastectomy?
A Mastectomy is surgery that involves removing your entire breast in order to combat the cancer in the breast and to assess the stage of the disease.
Simple or Total Mastectomy procedures involve removal of all of the breast tissue - the lobules, nipple, areola, ducts, fatty tissue and some skin, including the nipple and areola.
Radical Mastectomy involves removal of the entire breast, along with also removing the muscle of the chest wall and the lymph nodes under the arm. This procedure, however, is rarely performed now owing to the proven success of less aggressive and less scarring surgeries.
Modified Radical Mastectomy includes removal of the entire breast as well as the lymph nodes in the armpit.

Who All Should Get a Mastectomy?
The internet is abuzz with doctors worrying that Jolie's declaration will fuel an epidemic of mastectomies that may not be medically required.
Angelina Jolie had tested positive for a mutated version of the BRCA1 gene. Conventionally, the BRCA1 and BRCA2 genes protect people from cancer by restraining abnormal cell growth and stabilising cells' DNA. However, if these genes are mutated, as is the case with only 5 to 10 percent of all breast cancer instances, a woman's risk of developing breast cancer increases.
Centres for Disease Control and Prevention advise that because most breast cancers are not caused by the mutations, genetic testing only benefits a small number of people. If a woman does carry a mutated BRCA1 or BRCA2 gene and also has a family history of breast cancer, she has an even higher risk of developing breast cancer, as was the case with Jolie who lost her mother at the early age of 56.
"My chances of developing breast cancer (after surgery) have dropped from 87 percent to under 5 percent," wrote Jolie. "I can (now) tell my children that they don't need to fear they will lose me to breast cancer." While a preventive mastectomy cannot completely eradicate a woman's risk of developing breast cancer in the future, studies demonstrate that it lowers the risk significantly.
According to The Mayo Clinic, women who have already had cancer in one breast, who have a family history of breast cancer diagnosed before the age of 50, who have positive results of genetic mutations, who have had radiation therapy before the age of 30, or who have dense breast tissue are at a higher risk for breast cancer and therefore are candidates for mastectomies.

Breast Reconstruction
If a woman chooses to have a mastectomy, she has a choice whether or not to have her breast reconstructed by way of either silicone or saline-filled implants or from tissue extracted from her skin, muscle or fat from the buttocks, lower abdomen or back. Others may choose to merely wear a breast form that substitutes the breast, use padding inside the bra or doing nothing.
Are Mastectomies the Only Option?
Twenty years ago, every patient of Breast Cancer underwent a mastectomy without any deliberation regarding treatment alternatives. Taking offensive action against a heightened risk of developing breast cancer is all fine, but is a mastectomy the only available option today?

NO.
If you have breast cancer in your family history, you are advised to undergo genetic testing. While some women who test positive for the BRCA1 and BRCA2 mutations may opt for aggressive screenings with frequent MRIs and mammograms to catch any cancer early, others may wish to take the offensive and get a preventive double mastectomy done.
Experts believe that women who have observed relatives undergoing radiation and chemotherapy are more inclined towards genetic testing and preventive surgeries rather than screening for the development of and then treating the cancer if it arises. It is as one inheritor of BRCA1 gene mutation who lost her sister to breast cancer puts it, "My sister had to lose her life for me to spare my own. My mother gave birth to me, but my sister gave me a second chance at life."

Recovery from Mastectomy Surgery
In most cases, surgical drains inserted in the surgery areas remain for the duration of the hospital stay which is normally around three days. These drains collect excess fluid that is accumulated in place of the tumour.
After being discharged from the hospital, you will advised to take care in recognising signs of infection and Lymphedema i.e. swelling of soft tissues, regularly exercising your arm, taking medication and cleaning dressings, etc.
In the months after the mastectomy, you may suffer from phantom pain while your nerves re-grow and you may experience fatigue from time to time while adjusting to the effects of the surgery.

Treatment and Management of Breast Cancer
If inheritors of mutated genes decide to vigilantly screen and catch the cancer if it does arise, they should undergo screening every six months. The chances of survival are high if breast cancer is detected in the early stages, but decline drastically once the cancer spreads. The following are the Number of Factors that doctors take into consideration before suggesting treatment:
The Type of Breast Cancer;
The Stage and Grade of Breast Cancer – i.e. the Size and Reach of the Tumour;
Cancer Cells' Sensitivity to Hormones;
The Patient's Overall Health,
The Age of the Patient (is the patient menopausal); and
The Patient's Own Preferences
After deliberating on the factors, the doctors will suggest any of the following surgical and non-surgical Treatments:
Lumpectomy – Removing the breast cancer whilst conserving the breast;
Mastectomy – Removing the entire breast;
Sentinel Node Biopsy – Removing one lymph node;
Axillary Lymph Node Dissection – Removing several lymph nodes;
Radiation Therapy - Using high-powered beams of energy to kill cancer cells;
Chemotherapy – Using drugs to destroy cancer cells;
Hormone Therapy - Slowing the growth of hormone receptor-positive tumours by preventing the cancer cells from getting the hormones they need to grow;
Targeted Drugs – Attacking specific abnormalities within cancer cells.
It is strongly suggested that women whose close family members have suffered from breast cancer, undergo genetic testing. For women and families considering mastectomies, educate yourselves, ensure you have a strong support system and most importantly, do not be afraid to ask questions.
As Angelina Jolie said on her surgery, "I do not feel any less of a woman. I feel empowered that I made a strong choice that in no way diminishes my femininity."