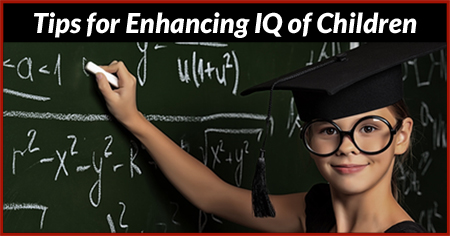 Parents have to play an important role in stimulating brain power and enhancing IQ of children. Read on to find some useful tips for enhancing IQ of children right away.



Enhancing IQ of children appears to be simple as well as tough in many scenarios. Everyone must be aware that proper diet and balanced lifestyle would help and create wonders. Most of the parents expect their children to be intelligent and super-achievers. Apart from normal academic studies, students need some extra care for an enhanced IQ level which is an advantage for their entire life. Below are some of the helpful tips to
enhance IQ of children
.

1. Boost Enthusiasm of Children

Set out a time for unusual play for kids every day. Parents must not lead the games as it might look like usual study agenda. Serve few different dishes once in a week, which would be a surprising day for the kid. Try to visit some unusual place or parks within the city instead of getting into an old sick environment. Take a long walk with the child and point out some dissimilar items on the way and describe them how it is special to this world. Barefoot walk on damp grass and dry sand will make the children to raise many questions and they will also begin to find answers on their own. When the kids are exposed to something new, or if they get a surprise, they become more curious to know about it and learn many new subjects.
2. Provide Games that Enhance IQ

Offering similar kind of toys or old traditional games will not help to enhance the IQ of kids. There are a variety of other toys which help in improving IQ. Building blocks is one of the most skillful toy that can help in creating high level imaginations. Blocks play a major role in stimulating the
brain power of children
.
Little instruments like xylophone, drums, piano and maracas can also help. Check out for some musical instruments where the children can create noise by pressing the buttons and play different tunes. Have some different costumes at home so that the child can try out a variety of roles by dressing-up themselves. Clothes or properties like hats, scarves, artificial swords, caps etc. will help for such games. Stock up the living place with a few items for children like crayons, paper, paints, markers, boards, glue, and stamp pads for creating own arts. Conduct few skillful games like word building, memory game, problem solving, puzzles, match the names and so on.
3. Ensure Adequate Sleep

It is mandatory for children to sleep when the brain really needs. Few kids are active in the morning, whereas others are active at night. As everyone is different, children must sleep when it is required, where the time is not a matter. If kids likes to carry out certain activities at night let them do it before the bedtime. Make sure that they get a sleep for at least 8 to 9 hours. Because, when the kids are tired due to lack of sleep, brain cannot function normally and give 100% result of their task. Insufficient sleep may lead to various mental and physical sicknesses.
4. Get Creative

Instead of performing usual activities every day, if the child takes up new hobbies or activities, attitude of developing new skill is possible. Just by watching cartoon movies, animated films will not help to develop
creativity in children
. Fiction movies, books and television shows are good for kids in order to get entertained in some challenging concepts.
Ask few questions to the children when they perform a particular activity and make them think about it. For example, you can ask questions like "why there is a shadow?", "what happens to teeth if oral hygiene is not followed every day?", "are we able to see the air?" and so on. Just by
reading
the academic books and mugging-up the subjects is not enough for a child to enhance IQ. It is necessary to give exercise to the mental muscles.
There are many things in this world and day-by-day new things are arriving on this planet. In that case, children should go through various learning stages in order to enhance the skill-set. Try to set a beautiful space for children to enhance IQ and be a successful human in this society.
What are the ways to stimulate brain development of children? How to boost IQ of children? Which games are useful for boosting IQ of children? Discuss here.