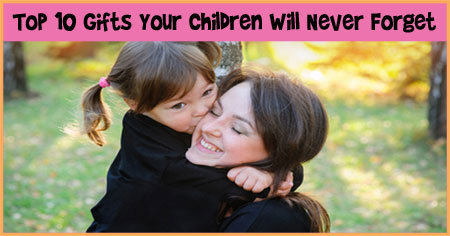 Children love to receive gifts. We as parents should gift some things to them which they will never forget throughout their lifetime. Here are top 10 gifts your children will never forget.
Being a parent, besides being the most rewarding thing in our life, it is also the most challenging role that the parents need to play. Nowadays kids are pampered with so much of toys and games that they gradually lose interest in these stuffs. Moreover the best gifts do not come from shops. Here is a list of top 10 gifts that you may give to your kids that they will never forget.

1. Time
This is the most precious
gifts
that parents can give their child. Time is one such thing that can never get back or taken back. So be careful how you are utilising your time. The time spent with your kids is the time to treasure and you can never get it back.

2. Undivided Attention
Your kids should always get your undivided attention and your kids should be your first priority whatever the matter is. Never miss any opportunity to interact with your kids, this will help them to feel secured when their parents are around and creates a healthy bonding between you and your children.

3. Opportunities
Kids need a lot of opportunities to explore their inner qualities, so they need some time and chances to find out what they like the most and what they are the best at. Make room for your kids to find out every opportunity that pass their way to excel.

4. A Home that is Welcoming
To return home after the whole day's work is the most assuring gift that you can give to your child. When they know that they will get to see you at home at night after you return from work is the most precious gifts for the kids.

5. Encouragement
It is the
powerful words
from the parents that can encourage the children in times of adversities. The simple words that parents speak can make a lot of difference to a child. Positive words urge them to shine brightly.

6. Proper Mentoring
Proper mentoring is very necessary for the kids to sieve all those messages that they receive from lots of people around them; all those messages need not have a positive effect on your child. So in order to filter all those negative messages kids need the best guidance and mentoring.

7. Affirmation
Every individual likes words of praises and affirmation and they shine out the best when they are valued. When you
praise your children
you are giving them two of the most precious gifts of life that they will treasure for the rest of their life, which is confidence and security.

8. Proper Discipline
Proper
discipline
is something that is needed in almost every aspect to live a life that is peaceful and hassle free. If your kids live a disciplined life everything is bound to fall in the perfect place and your child will not need to worry about anything

9. Room to Make Mistakes
Instead of reacting with a fit of rage at your kid's mistake, allow them to make
mistakes
and let them learn from the mistakes. Take it as the practice for improvement; we all learn from our mistakes and competence can only be built form lots of practices, so allow your child to practice more and become perfect.

10. Love That is Unconditional
This is probably the most expensive gift that you can give to your child, your unconditional love and support. No matter what they do they should know that you are there with them with your full support. Unconditional love does not mean an undisciplined life; it means that they will find their parents by their side when things go wrong.
These gifts though do not come from any shop, count a lot in a child's life. They will benefit from these in their whole life time.

What kind of gifts should be given to children? How to buy a gift for children that they will never forget? Is it necessary to buy expensive toys and games for children as gifts? Discuss here.