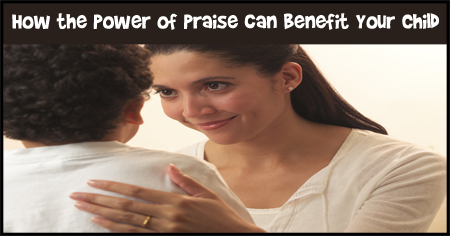 Praising children sincerely can develop many positive qualities in them. Read on to learn more about the advantages of appreciating children.

Appreciation has often been quoted to be "food for the soul". However, in the world of parenting there are mixed feelings about appreciation as some parents feel that appreciation may lead to inflated egos and spoilt tendencies in kids. However, the positive effects of
appreciation
are tremendously beneficial as demonstrated by the following points.
Conditioning Good Behaviour

As mentioned earlier being appreciated and praised is one of the basic needs of human beings. Children being transparent and sensitive feel this need most acutely and they often actively crave appreciation from their parents. If you praise your kids for their
good behaviour
or well meaning actions then there is a high chance that those positive actions and behaviour patterns will be repeated again soon.
Hearing words of appreciation makes the kid feel motivated to earn that praise again. With repealed conditioning displaying such commendable behaviour becomes a habit that your child demonstrates naturally.
Boost in Confidence
For a child, everything in the world is new and exciting. Every kid is scared of first time experiences like the first day at school alone, first day of independent potty use, first step or first exam. Your child needs to be motivated and his or her confidence needs to be strengthened in order to face these series of firsts.
Your child receives a powerful
boost of confidence
every time you choose to praise or appreciate. For example, if your kid looks nervous before the exam just says "I really appreciate how sincere you are about your exams" and see how your kid's confidence grows.
Replacing Material Rewards
For some reasons, many parents choose to withhold affection and appreciation and instead choose to show their love in materialistic ways. Buying new clothes, toys and games for your kids will bring temporary happiness. Sometimes a kid who gets too many material things from parents tend to develop a materialistic approach towards life and relationships.
However, on the other hand a parent who uses appreciation as a way of showing love sparks the feeling of organic well being and contentment in the mind of the kid. Such kids who feel loved and appreciated by their parents manage to live life happily without high material cravings.
Feelings of Trust and Cooperation
As your kid grows older he or she develops a sense of pride and self respect. Your child makes new friends and sometimes friends may seem more important than family. In the teenage years it is common for kids to distance themselves from their parents. However, a parent who has secured the trust and cooperation of their child by uttering words of sincere appreciation at opportune moments will feel the urge to confide and remain close to the parent.
Children who feel appreciated at home tend to live more balanced lives staying away from substance abuse, casual sex and other forms of teenage pitfalls.
How Much Is Too Much?
When appreciation is quoted to be a positive force on kids it should be remembered that needless
over praising
has its own share of side effects. Praise should be given at opportune moments when the kid deserves it. Praising a kid dishonestly will make a child believe that he or she has qualities which in effect are absent.
Praising children unnecessarily also leads to false confidence and pride which are both detrimental to a child's professional as well as personal future. Learning the limits of how much and when to praise your kids is one of the tougher lessons of parenthood.
In conclusion it can be said that moderate amounts of
sincere praise
can work wonders for a child's development. Now that you have discovered the benefits do learn the art of praising your kids correctly.
What are the benefits of appreciating children? Why should parents avoid appreciating children dishonestly? What are the effects of sincere appreciation on the behaviour of children? Discuss here.