Baby's Diet Topics..
Please Note: Breastfeeding baby until the age of 12 to 18 months is ideal choice; Babies should be bottle-fed only when breastfeeding is not an option.
Preparation of Cow's or Buffalo's Milk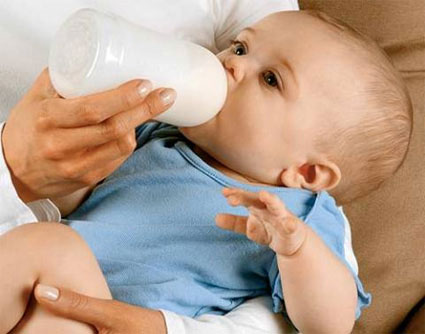 Preparing milk for bottle feeding from Cow's or Buffalo's milk requires careful handling. All the equipments should be sterilized properly to avoid infections. Milk should be boiled for 10 minutes before cooling. Read on to know more.
What animal milk do I use for bottle-feeding
You can use cow's milk, buffalo's milk or commercial infant milk preparations. Cow's milk and buffalo's milk should be boiled and given to the baby undiluted. In the case of buffalo milk, you should allow it to cool after boiling and remove the cream before giving it to the baby.

How do I prepare bottle feeds if I am using cow or buffalo milk
The first thing to do is to keep all the sterilized equipment - bottles, teats, bowls, spoons, etc., handy. Wash your hands carefully with soap and water before handling the sterilized equipment and milk. If you are using cow's milk or buffalo's milk, boil it for ten minutes and then allow it to cool. In the case of buffalo's milk, you should remove the cream that forms on the surface of the milk on cooling. Do not dilute the milk by adding water. Add one teaspoon of sugar for every 75 ml of milk before feeding the baby. Test the temperature of the milk on the inside of your wrist before you begin feeding. It should be lukewarm.
You may also be interested in:
Recent comments (9 comments)
Name: dr amita
Country: India
Other milk we cn gv fr whole life bt breast feeding cn b givn only fr 1or 2years...we cn maintain our health later on first breastfeed ur babay until he or she reaches atleast 1yr.
Name: Sunaina
Country: India
Hi, I have a 11 months old baby. Now i am breast feeding my baby, but due to some health problem i am planning to start bottle feeding so please advise me which milk i should use. I heard that cow/buffallow milk can be given after 1 year. so please advise me.
Name: Dr. Deepika
Country: India
No COW / BUFFALO milk till 12 months. There are several reasons to delay the introduction of cow's milk until your baby reaches his first birthday. Most important, a baby's digestive system can't digest cow's milk proteins. Cow's milk also has too much sodium, potassium, and chloride, which can tax your baby's kidneys. Even if his system could handle it, cow's milk doesn't have all the vitamins and minerals (especially vitamin E, zinc, and iron) that he needs for growth and development in his first year. Giving a baby cow's milk could even cause iron deficiency and internal bleeding. And it can increase his risk of an allergic reaction. Once your baby's digestive system is ready to digest it, though, milk becomes a powerful ally. A great source of calcium, phosphorus, and vitamin A, milk will build your toddler's bones and teeth and help his body regulate his blood coagulation and muscle control. Almost all milk is fortified with vitamin D, which helps the body absorb the calcium it needs. Milk also provides protein for growth, as well as carbohydrates, which will give your child the energy he needs to toddle all day! And if your child gets enough calcium from the get-go, there's evidence that he'll have a lower risk of high blood pressure, stroke, colon cancer, and hip fractures later in life.
Name: nishabinoy
Country: India
thankful for this site
Name: Deepak Arora
Country: India
could you please let me know how long can i keep buffalo/ cow milk in bottle outside/inside the refrigerator. i mean is it ok to keep the milk in bottle for 12 hours in refrigerator
Name: patam
Country: India
buffalo's milk is heavier to digest than cow's milk .
Name: KIRTI CHOUDHARY
Country: india
i have started cows milk to my daughter and my daughter is very satisfied and feel mor comfortabel.
Name: Reema Tandon
Country: india
cows milk increase stools of infant
Name: Roshni
Country: india
great tips! keep it up.



Back to Previous Page | More on Baby's Diet Index
Toddler Enjoying Breastfeeding Video