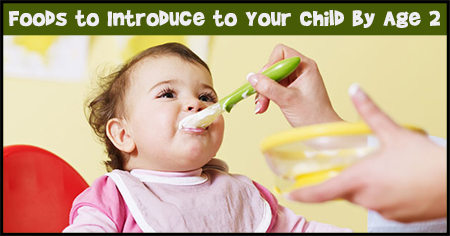 Solids should be introduced gradually in the diet of babies after they turn 6 months old. Read on to learn more about the foods that can be introduced in the diet of babies by the time they are 2 years old.
In infants the digestive tract is not developed enough to process solid foods which are why they feed exclusively on milk, water and other formula liquids in the early stage of their life. However, muscular and physical development does not really start off unless babies get started off on solids as these food groups provide maximum nourishment. For a parent when and how to start babies on solids is a difficult decision.
When to Feed Your Baby Solids?
There is no fixed formula as to when you should start off feeding solid foods to your baby though the standard time frame is 6 months old. You should look out for the following signs like your baby demonstrates a sufficient amount of head control and loses the extrusion reflex and starts showing proper chewing motion. Babies who start sitting upright on their own and show curiosity and inclination towards adult food are probably ready to be introduced to solids.
How to Feed Your Baby Solids?
The first solid food introduction to your baby should be done via feeding pureed solids. If you are starting off with cereals then mix it with formula milk and feed from the bottle. If you are using a spoon then use a soft tipped one to reduce the risk of gum injury. If your baby is not showing any inclination towards actually eating solids then get him or her to smell and warm up the kind of food you are introducing. It is advisable to gradually thicken the consistency of the solid food you are feeding your baby.
For 6 Months Old Babies
Babies of this age have tender and underdeveloped digestive tracts and they have not been accustomed to solid food yet. Their stomach is not yet firm enough to process chicken, meat, eggs or any other non vegetarian high protein item.
Cereals like rice, oats and young barley grains are the first solid food groups your baby can be fed. All these cereals have essential vitamins and nutrients apart from being a very good source of carbohydrates
When it comes to fruits you should be feeding soft fruits like avocadoes, bananas and peaches to babies who are 6 months old. These fruits are easily digestible and have less amount of fibber in them. Similarly soft vegetables like well boiled and pureed sweet potatoes, pumpkin and French beans and are the first vegetables that a baby should be introduced too.
Remember not to feed any solid dairy product or high protein food to a baby this young.
Babies Who are 8 Months and Older
Your baby is now old enough to be eating solids at least twice a day. You can now feed yellow, green and orange vegetables along with very small amount of tofu and meat to your baby. Cereals which iron fortified are also a good choice for babies who are 8 months and older. Use a Sippy cup to gradually acclimatise your baby to start eating solids. A blender or a grinder should be used to puree foods first before feeding.
List of Solids Safe for Babies
Some food groups that you can easily feed your kid are bell peppers, rice, black beans, sprouts, cauliflower, carrots, cantaloupe, cabbage, squash and broccoli. When it comes to non vegetarian items the first solids for your baby are chicken, eggs and cod fish. Your baby can also be fed coconut puree, cucumbers and mozzarella cheese and honeydew melon along with olive slices and lentils.
Now that you know all about how, when and what solids to feed your baby you can safely start introducing solid foods to your little angel.
How to introduce solids to babies? What kind of foods should be included in the diet of a year old child? Which foods should the introduced to a child by age 2? Discuss here.