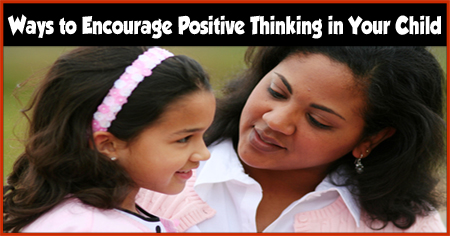 Positive thinking is one of the most important qualities of courageous and successful individuals. Read on to learn more about how you can help your children imbibe this quality.

In the recent times, the world has taken a nose dive into the plunge pool of negativity. There is so much negativity around. The evils of negativity have not spared anybody including the news, events and most importantly, people. The world needs more light; more positivity, more hope, and our children might be the way to make that happen. Here is a list of ten ways to encourage positive thinking in your child.
1. Be a Role Model Yourself
Being the authoritative figure in your child's eyes, they often look up to you as their role model. To spread positivity, you must be positive yourself. Only then can you help your children develop positive thinking.
2. Create a Positive Environment
Children are mostly influenced by the world around them. Joke with them, tell them stories, play games. A positive environment leads to positive thinking.
3. Help Your Child Develop His or Her Hobbies
If your child is gifted and has certain
hobbies
, help him or her develop them. As for instance, if he or she likes playing guitar, you can encourage him or her to take guitar classes. This develops confidence. Confidence breeds positivity.
4. Display a Lot of Affection
Show your kids a lot of love and affection. Ensure that you display your love for them and that show them that you are always there for them no matter whatever happens. Hug them, kiss them, laugh with them. Make them smile. Smiles are essential for positivity.
5. Motivate Them
We often tend to think negative before doing something. We lack
confidence
and sometimes, that can mess things up. This is common among children as well. To avoid such negativity,
motivate
them. Teach them to control what they say to themselves inside their minds. Instead of the "I can't" motivate them to have confidence and change it to "I can".
6. Help to Develop a Positive Attitude
Even with all the negativity around them, teach them to be firmly rooted to their ground of positivity. Teach them how to think about something positive about any situation no matter how bad it might be.
7. Acknowledge any Negative Situation
Negative situations are not really pleasant things to reminisce on. But they are the best teachers. As the saying goes, "Failures are the stepping stones to success". Teach your child to be brave enough to acknowledge the situation so that something similar to the likes of it is not repeated in the future.
8. Allow Your Child to Do What He or She Likes
Do not limit your child. Allot a certain period of time to let your child do what he or she like the most; be it playing video games, or drawing or watching T.V. This will not only keep them happy but also give them something to look forward to everyday.
9. Encourage His or Her Creativity and Originality
Many parents often tend to thwart their child's creativity calling it useless and a waste of time. No creativity is useless. Originality is something that should be celebrated. Encourage your child's creativity. Motivate him or her to do better. This will not only induce positive thinking but also encourage him or her to work hard hence enhancing their originality.
10. Teach them Values Like Grace and Compassion
Human values are of utmost importance when it comes to raising a child with a
positive attitude
. Teaching them to be graceful and compassionate to others will help them develop a positive outlook and also spread positivity around.
In this world of negativity, finding a beacon of hope and positivity can be hard. Sometimes, it might even seem unachievable, but not impossible. Our children, who represent the future of our world, need all the positivity they can get. Encouraging them to leading a life replete with positivity is of innate importance. Raising them right, will not only make you a
successful
parent, but might also be a stepping stone to changing the world and making it a better place to be in.
Why is it necessary to develop positive thinking in children? What are the benefits of encouraging positive thinking in children? How to develop positive thinking and positive attitude in children? Discuss here.