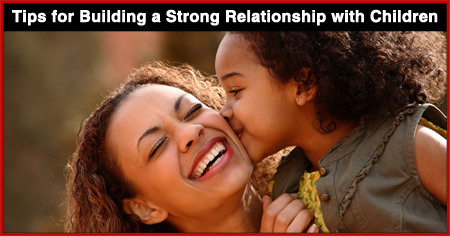 Maintaining a healthy and strong parent-child relationship is important to provide positive stimulation to children. Read on to learn more about the ways to build stronger and healthier relationship with children.
A healthy parent-child relationship is very important for raising children into well-balanced and healthy individuals. So, parents must ensure that they build and maintain a strong relationship with them. No one can take place of parents in the world of children. Parents have to always act as a greatest support system of children as they may not find such support system anywhere else in this universe. Let us take a look at some tips for building healthy relationships with children.
How to Build Healthy Relationship with Children
Here is what parents can do to build a healthy and strong relationship with children.
Have a Healthy Conversation
It is necessary to have a healthy
communication
with children in order to help them express their feelings. Having a healthy conversation with children everyday leaves no scope for them to hide anything. It is very important to motivate them to talk about how their day was and things that happened to them.
Be Involved with Them
It is necessary to be involved with children in all possible ways.
Being involved with children
helps to charge them-up positively to do activities that they have to do in their day-to-day life. If possible parents should involve their children in the little household decisions that they take. It is good to be involved but parents should also make sure that they are not over involved in their life.
Celebrate Their Little Achievements
It is necessary to celebrate the little achievements of children. It will help parents to make children realise their own worth and get motivated to achieve bigger goals. Little celebrations can help children and parents to come closer and at the same time increase the joy of each other.
Teach Them to Always be Happy
It is necessary to help children to always be happy and cheerful. Parents should do little things that can help children to boost their happiness. Doing things like taking them out for a walk, telling them stories, reading to them aloud, telling them jokes can help parents to boost their happiness quotient. Also, spend some time with them to express your gratitude for what you have as a family. This activity will surely prove beneficial for improving the parent-child relationship.
Learn New Things Together
Learning new things together can help to improve the
bonding of children with parents
. It will not only improve their knowledge but also will ignite a spark in them to always do something new. It will also give parents a joy of learning something new with children. For example; if a parent has never learnt to swim, he or she can learn swimming with his or her child.
Grow With Them
Enjoy every moment of growing with children. Observe them grow and do new and exciting things because these moments are not going to come back. Always think how you can make each moment a precious one for them and act accordingly. Share all of their joys and sorrows. Teach them various life skills and also how to deal with the various problems in their life. In this way you will get to develop a stronger and a healthier bond with your children.
A stronger and healthier bond with children is very essential for helping them develop into mentally strong and wise individuals. So, always stay connected with them and always try to make the childhood journey special for them.
What are the ways to build a strong and a positive relationship with children? Why is it necessary to have a strong parent-child relationship? What problems may children face if there is a lack of good parent-child relationship? Discuss here.