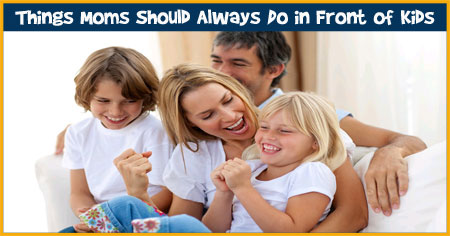 All moms should model right kind of behaviour to inculcate good manners and discipline in kids. Here are things that moms should always do in front of kids.

Motherhood is a beautiful feeling and also a lifelong job. Motherhood is on one side learning and on the other side a living with enriched learning. Children will either share or would not share their problems with their mothers. In both the situations, it is the mother's duty to solve her child's problems.
Kids are always eager to receive encouragement from their mothers, as they are their immediate and intimate persons in their lives. So as a mother one should have an exemplary behaviour and a dedicated target towards their kids.
As a young mother, it is very easy to say "I want to enjoy my life". Let us not forget that one generation has to do their best to place the next generation in the right place in this world. For example, if the resources are not properly protected, future generations cannot exist on this earth. Same way if we do not shoulder our responsibility properly, we become a burden to this world. Let us take a look at few things which every mom should do in front of her kids.
Things Every Moms Must Do in Front of Kids
Here is a kind of behaviour which every mom should exhibit in front of her kids.
Should maintain her calm, instead of asking the kids to be calm


Should always practice whatever she preaches


Should always accept right as right and wrong as wrong


Should always be sensitive and emotional and be reasonable in her thinking


Should always encourage children and at any cost never hurt them mentally


Should always compare with her past performance and not with other kids or with the peer group


Should always appreciate children and allow them to learn from past failures


Should always make children feel that they are lucky to be born in this family
Every mother should strive to make her children so strong that they are ready to face the real big world and withstand every storm in life.
No man on this earth is an exception. We live in a society and should nurture perfect societal behaviour and display the same in every walk of our life. Our behaviour should be impressive and reasonable so as to make the other person understand his or her own responsibility.
Not only
mothers
but also
fathers
should set reasonable targets to their kids and not impossible ones. Healthy and confident children are an asset to the world. Kids brought up with this kind of courage and confidence will surely live a life of contentment, and grow up with dignity. They learn to appreciate others achievements and waits to earn their merits with their own hard work. This way, there is no room for jealousy, hatred and frustration.
Children should grow up with confidence that they receive proper appreciation for their behaviour. Every appreciation which comes from the parent gives a perfect direction for the children into the future. Then the children will realise, that they cannot be content with their achievements, but they should aspire for something great in the future. Moms should always do such kind of gestures in front of kids which impress on the kids as well as are appreciated by other family members and society.
What kind of behaviour is expected on part of moms? Why is the role of moms extremely important in the growth and development of kids? What kind of things should moms avoid doing in front of kids? Discuss here.