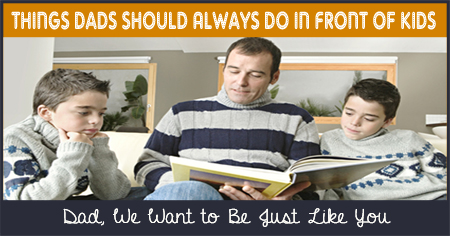 By doing certain things dads can develop good values and behaviour in kids. Have a quick look at the things which dads should always do in front of kids.
A dad is someone who is looked up at by children during their childhood and even when they grow-up. Dad's demonstrative mannerisms can help the children to learn their life's lessons with ease and help them to get ready for healthy relations at every stage in life. If these minor things are taken care, parents need not worry about children and their
behaviour
in future.
Dad's role in a child's life is to prepare his kid to face the world and win the laurels at every stage of his or her life. All this is possible, if a child is properly groomed in his hands. Therefore, it is very important for all dads to set right example for kids. Let us take a look at the 10 things which dads should always do in front of kids.
10 Things Dads Should Always Do In Front of Kids
Here are 10 things which dads should always do in front of kids.
1. Dad has to live a decent and respectful life, irrespective of his financial and professional status.
2. Dads should set perfect
family rules
which are always in tune with the interest of the larger society.
3. As a dad one should ensure to follow the rules himself.
4. Dads should chalk out a proper plan and set achievable targets for his kids and his family.
5. Dads should demonstrate his love and respect to his family as this will subconsciously
influence the child
.
6. Dad's positive mannerisms and decorum can be very attractive for a child to adopt.
7. Dads should follow the rules at every turn of life so as to set a proper example for the child.
8. Dads should shun all kinds of wrong habits before the kids get to learn the same.
9. Dads should condemn wrong kind of happenings around and display his unique and exemplary behaviour.
10. Dad has to enable the kids to understand that wrong and unhealthy behaviours are always harmful.
Role of Dads in Upbringing of Children
Obviously, if one has to succeed in this big society, he or she has to live an ideal life within the four walls of his or her home. For children, parents form a big world within the four walls of a home. In this changing society, even the roles of a parent are getting very dynamic. Also a dad has to prove himself so strongly that he is the life giver and life saviour for his kids.
A dad should maintain such great
values
which reflect his highest principles in this society. Dads should also try to speak out their thoughts to their kids. This will form small thoughts and plans in the minds of the kids. Slowly it will set a path to the child and make him diligently walk in that path.
Parents should groom their children with their long term plans and allow their kids to achieve their short term plans. This way the child is well prepared to perform, enrich and display his or her exemplary performance. This will also help the child to shape his career and character.
Importance of Grooming Children in Early Childhood
Formative years in a child's life are very powerful. They influence the child very strongly. If the child is exposed to prefect atmosphere, he or she gets very confident and becomes a strong personality. If not, a child tends to develop wrong values which in turn lead him or her towards wrong
habits
. This is the greatest threat for any society.
Grooming a child in the right way is a beautiful task in the hands of his or her parents. An ideal family and a humble behaviour of the family members can be highly influential. These can be taught at the right tender age by creating a suitable family environment. As the head of a family, father carries important responsibilities on his shoulder.
Which are the important responsibilities of dads? How should dads behave in front of kids? Why is it important for dads to behave responsibly in front of kids? Discuss here.