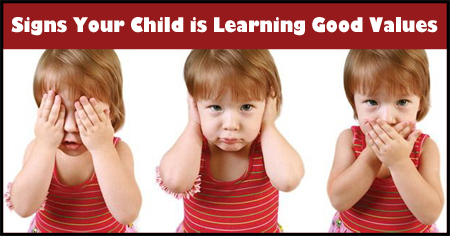 Inculcating good values is a must to shape personality of children and raise them into well balanced individuals. Read on to learn about the signs that your child is learning good values.
Most of the parents agree that at the end what matters most is learning good values and being a good human being and they wish to see their child become a good person when she grows up.Children get moulded into the person they would be in future when they are in their formative age. Learning begins in the family and parents are the best guide especially when it comes to forming the personality of a child. Here are some signs that indicate that you are going on the right path.
Signs that You are Inculcating Good Values in Your Child
Here are some signs that indicate that your children are learning
good values
.
1. There is Good Relationship within the Home
Since the family is the basic unit of a society, the environment within a family has a great impact on the people living in it. Children learn here values that would be helpful in knowing how to be a good human being in future. So, if you have good relationship with everyone in the family, you can stay assured that possibility of your child to learn good values has increased.
2. Your Children are Always Ready to Help Others in Need
When parents prioritize their children caring for doing things for others, it leads to strong and stable relationships which ultimately lead them to happiness. This will help them address to everyone respectfully no matter if they are tired, angry or distracted.
3. Your Children Practice Thoughtfulness and Gratitude
Do not expect your child to become a good person overnight. It takes time. Your child needs to practice
caring for others
and at the same time express gratefulness for those who take care of them. This will make your child helpful,
compassionate
, generous and forgiving with time.
4. You Let Your Child Expand His Circle of Concern
Every child normally has a small circle of family and friends. You should allow your child to help and care for someone who is outside this circle.
5. You Allow Your Children to Be Friendly with Others
Let your child be friendly with everyone she meets daily and be grateful to all other people like bus driver, waitress and more. Let her care for those who are vulnerable and needy.
6. You Are a Role Model and Mentor
Teaching and preaching is not going to give you desired results. Children follow what they see their parents doing. So, if your child will see you caring for others, she will definitely do it in her life.
7. You Guide your Kids to Manage Negative Feelings
Anger, shame, envy or different negative
feelings
are part of life. You should teach your children that having all kinds of feelings is fine, but we need to deal with the negative ones effectively and in productive ways.
8. You Find out Your Child's Strengths and Weaknesses
The strengths and weaknesses of your child have direct impact on her mental health. So, nurturing your child's strength and working on her weaknesses will help her become a good person.
9. You Always Encourage your Child to Speak the Truth
Along with doing the same yourself, you should make sure that your child speaks the truth.
10. You Show Concern When Your Child is Stressed
A child can focus on others only when she is free from any kind of botheration and stress. If your child is disturbed, find out the reason and solve it out. Children who grow in stress free environment grow-up into well balanced individuals. When you see good behaviour of your kid, appreciate and encourage her. Always spend quality time with your kids no matter how busy you are.
How to inculcated good values in children? Why is it important to teach good values to children? Which values should children learn during early childhood? Discuss here.