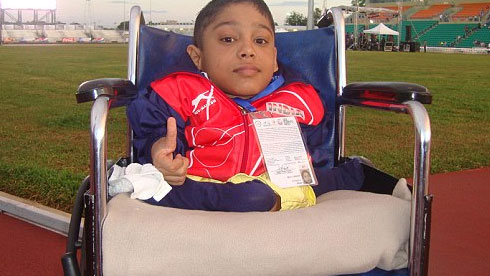 Master Moin M. Junnedi is the youngest swimmer with locomotive disability. Having overcome physical difficulties, he has many achievements to his credit.
Moin M. Junnedi is considered to be the wonder boy as he entered the India Book of Records as the youngest swimmer with locomotive disability. He is just a fourteen year old who suffers from OI or osteogenesis imperfect, which is commonly known as the brittle bone disease. This diseases result in causing easy and frequent fractures in the person. People suffering from OI also have defective connecting tissue, so the tissue loss and regeneration is a big issue there. Despite all these impossible drawbacks, Moin M. Junnedi achieved this rare feat of staying afloat for one hour and continuously swum for two hundred meters.
---
In this article
---
Achievements
The first major achievement for Moin M. Junnedi was the 10th Paralympic Swimming Championship for the disabled sportsmen held on Kolkata on 9th October, 2009. He had won two gold medals in that championship. Moin M. Junnedi's next gold medal was in Bellary National Meet held on 9 July, 2010. Moin M. Junnedi has won 1 silver and 4 gold medals at the National Swimming Championships held at different parts of India in recent times. By far his biggest achievement is to stay afloat on water for over an hour and swim over 250 meters at a stretch without any break.
Background
Moin M. Junnedi was born on 20th November, 1998, in Belgaum, Tilakwadi. He was born to Mushtak and Kauser, who are today proud parents of this wonder boy. Mushtak is a farmer by profession and Kauser is a homemaker. Kauser mentions that she feels gratified that at least the current swimming academy took Moin M. Junnedi , when no other swimming club or academy refused to take up the responsibility of training such a disabled child, in such fragile state. They are a regular middle class family who need to take maximum efforts to make both ends meet, especially when they also need to fund the expenditure for the treatment of their son's disease. Moin M. Junnedi is lucky to have been under the training of swimming coaches like Anand Patil, Kallappa Patil, Prasad Tendolkar, Umeash Kalghati and Sudhir Kusane.
Due to Moin M. Junnedi's achievements and amazing dedication to sports, he has also received the support in the form of monetary and other required help from several people. This has been acknowledged by his parents too. The prominent amongst them are Smt. Lata Kittur, Smt. Manek Kapadia, Rtn. Avinash Potdar, Rtn. Basavaraj Vibhuti and Shri. Suresh Hundre along with several others. Moin M. Junnedi regularly practices at the Rotary Corporation Sports Academy swimming pool.
Medical Condition
As mentioned earlier Moin M. Junnedi suffers from OI. Till date Moin M. Junnedi has gone through over 200 fractures in his entire body, and did not still diminish his passion for the water. According to doctors, his bones are so soft in texture that a tiny blow may result in another fracture. Moin M. Junnedi also suffers from a deficiency of Type 1 collagen that further accentuates this problem of brittle bones. People who suffer from this osteogenesis Imperfecta, also suffer from a mal performing connective tissue, and this makes the situation worse, as the fractures happen more readily and more frequently and it gets more and more difficult to heal them.
It is only absolute credit and salute for perseverance and great will power that this young achiever Moin M. Junnedi should be saluted for. Despite all his physical difficulties, he did not let them negatively affect his will to perform and get up for the regimen every single day.
What is unique about Moin M. Junnedi's achievement? What is locomotive disability? What are the achievements of Moin M. Junnedi? Discuss here.