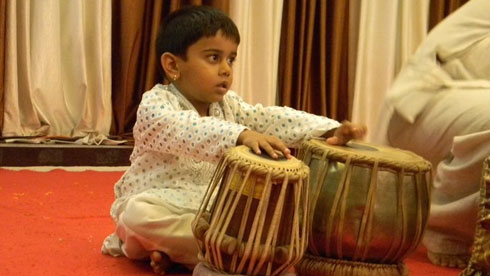 Master Truptraj Pandya is in the Guinness book of World Records for being the youngest Tabla Player. Learn about his innate sense of rhythm despite having dexterous pair of hands.
On 24th April 2013, Master Truptraj Pandya is proclaimed as the world's youngest tabla player when he received a certificate on the same by the Guinness Book of World Records. He is hailed as a wonder child by the music world as he managed to play the tabla despite being born with dexterous pair of hands. This little music maestro in the making already has several records and awards under his belt and his passion for the instrument is unbridled. It is mere joy while practising and performing that enthrals the listener and his talent is also boundless. Experts opine that this child prodigy is an ocean of musical
talent
and with such determination and will power it will be in no time that he would be capable enough to break more records and carve a niche for himself in the history of
music
.
---
In this article
---
Background of Master Truptraj Pandya
Master Truptraj Pandya was born to Atul and Veena Pandya. It did not take long for his parents to realise that this baby is born with an innate sense of rhythm. As an infant, he once insisted on playing the Dholki, a drum like playing musical instrument that kids are given as toys. So Master Truptraj Pandya began to play with this Dholki that he received from his aunt one night and it was so in rhythm that it bought tears of sheer joy to his mother Veena's eyes. She recollects this incidence with fond memories now. According to his father Atul, Master Truptraj Pandya was just 18 months old, when he first had his hands on the tabla and played as an instrument, much akin to a pro. He always had his fondness for listening to and enjoying classical and devotional songs and music. As he used to hear his grandmother sing devotional songs in the evenings, Master Truptraj Pandya as a little child, used to keep up the beat on aluminium dabbas, or boxes.
The Path to Glory
It was three years back in 2009, when Atul recorded a video clip of Master Truptraj Pandya playing the tabla and sent it to the Limca Book of Records. But this application was not even considered as he was informed that no entries of children under the age of 12 are allowed. His father Atul was so convinced and confident of his little son's talent that he forwarded the same clip to the Guinness Book of Records. He recalls that he was highly discouraged by the staff members, but the father in him was unmoved and he was neither disheartened. There is an application procedure for the Guinness Book of Records, and Atul followed them all and he eventually sent the application on the eve of Ganesh Chaturthi. To his utter amazement and joy, he received the confirmation of his son Master Truptraj Pandya being an entrant to the esteemed Book of Records on the auspicious day of Ram Navami.
Performances and Other Achievements
Master Truptraj Pandya did his first public performance at the age of two at the Somaiya College. At the age of three he gave a live performance at the All India Radio, for which he later received the Bal Kala Ratna Award. The next was at the age of three, Master Truptraj Pandya performed at the Doordarshan Sahyadri. Till date this child prodigy has performed in over 50 public concerts all over India.
It can only be said that it is huge inspiration for everyone that a child who suffers from dexterous arms can play and enjoy the tabla so well, that he is said to lead his audience spellbound with his magical pair of hands beating out the rhythms. A child who needs to be hoisted on cushions, so that he can comfortably reach the tabla, is surely a sight to behold. Master Truptraj Pandya also dreams of becoming a cricketer and a better tabla player when he grows up. Currently he is honing his tabla skills under the tutelage of some able guru.