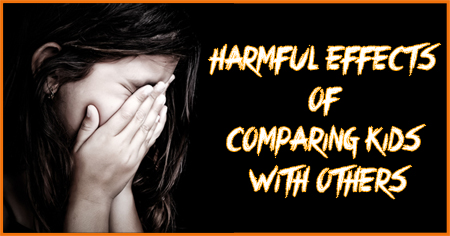 Kids can feel stressed and pressurised if they are constantly compared with others. Comparisons can affect their academic performance as well as their overall development. Let us take a look at the ill effects of comparing kids with others.
All parents expect their children to be the best so that they can feel proud of their kids and can boast of, in front of others. But it is very important for the parents to understand that every kid is not made the same way. That is to say, that their intelligence level is not the same. This is the only reason why some kids become eminent scientists while the others cannot. Some kids win the rat race while others are left behind. There is nothing to ridicule in this. The world is made this way, it is natural and every parent needs to accept this truth.If you start
comparing your kids
with others, you will simply waste your energy without any productive outcome and will vent your anger unnecessarily on your children. It will create negativity only, so it is better to accept what is coming your way.
How Comparing Can Affect Your Child
Here are some ill effects of comparing your child with others.
Causing Stress for Both
When you start comparing your kids with others you are causing
anxiety
and
stress
for both of you, yourself and for your kids. This can prove detrimental for your mental health as well. A kid cannot take so much stress coming their way and will start feeling disturbed and his studies will be affected more due to this.
Inferiority Complex
When your kid finds her friends doing better than her in studies or in anything else, she will automatically develop
inferiority complex
. At this crucial time, if instead of being with her, you start comparing her to others; your kid will feel more frustrated. So avoid this act of comparison.
Envy and Jealousy
When you compare your kid with other kids, your kid will simply develop jealousy against her friends with whom you are comparing her. It will create a rivalry among them which may sometimes go beyond your control.
Stop Trying
If you do not appreciate any positive approaches of your child and continuously criticize her for not being as good as her friends, she will stop trying any future endeavours. She will feel that it is of no use, because you will never be pleased with what she does. She will discontinue pleasing you anymore.
Create Their Distance From You
When kids cannot relate with their parents, they start to feel uncomfortable in the presence of their parents. They start maintaining a distance from their parents. This creates miscommunication between the children and their parents.
Child's Own Talents Will be Lost
When you compare your child with others, just to please yourself, she will unwillingly do whatever you ask her to, under pressure. When anything is done unwillingly and half heartedly it cannot be as good as if done willingly. Under this circumstance she will forego her own talents and will devote time to something which she does not like to do at all. Thereby her interests will be lost in fulfilling your desires, just to make you happy.
Comparison Stays in the Head
When you continuously compare your kids with others, it stays in their memory for a very long time. You may not have intentionally said anything to hurt them, but they remember your words for a very long time and create an issue about it in the future.
Builds a Reckless Attitude
When you continuously compare your kids and ignore her best talents, your kids will start a reckless attitude towards you. She will stop doing anything that will make you happy because she knows that nothing can please you.So instead of comparing her with others try to appreciate her best talents. She will not benefit if she does something unwillingly. But if she pursues her talents she will surely get positive accolades there from everyone. So never
pressurise kids
to do something, just to take pride of in front of your peers.
Why is it not good to compare kids with others? Can criticising kids be beneficial sometimes? How to avoid comparing kids with their peers? Discuss here.