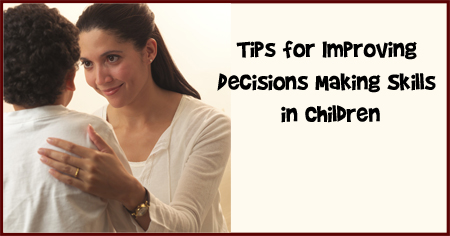 Teaching children to take right decisions can help them to grow-up into successful individuals. Here is what you can do to improve decision making skills in your children.
Decision making is one of the most important and crucial life skills that your children will need to learn in life. The ability to make good decisions is elemental for personal and professional success. Unfortunately, the art of
making good decisions
is not something that kids are born with and parents have to take the responsibility of teaching these skills to their kids. The guide mentioned below teaches parents to
impart the skills
of good decision making to their children.
Think before Leaping
Children do not possess experience and a wise perspective like adults and this is why their decisions tend to be impulsive and tilting towards immediate gratification. As a parent one of the first things you could do is to teach your kid is to take time before jumping off to immediate gratification results. When you see your kids asking for something on an impulse or making unwise hasty decisions then stop them there and then. Ask them to take 5 minutes to think about the pros and cons of the decisions. Your kid will develop the art of consideration before making an instant demand or reaching an instant decision.
Teach the Skill of Self Questioning
You need to teach your kids to ask themselves some important questions before they reach a decision. One of those questions is "what are my reasons for wanting to do this". Another one is "what are the other options available to me". Where children are concerned it is often seen that they have a tremendous amount of peer pressure. Most of their decisions are based on the fact that their friends are doing something similar. This is why you should spend some time explaining to your kids as to why asking themselves questions before giving in to peer pressure is important.
Develop an Ethical Framework
Most of the decisions that your child will have to take in professional and personal life will be dependent on ethics. The stronger your child's ethical framework is the easier it will be for them to make stronger and wiser decisions. Start teaching your kids the
difference between right and wrong
from an early age. You need to make kids understand that it is not okay to steal, lie, manipulate etc. Once your children begin recognizing the basic difference between wrong and right actions they will not be easily swayed by temptation and their power of making good decisions will grow stronger.
Risk vs. Reward Analysis
Teach your kids to analyse the risks and the rewards of any particular decision. This has to be first done in the short term before children learn how to analyse things in the long term. For example, the decision of eating yet another chocolate bar at night may yield instant pleasure (reward) but the (risk) developing cavities may outweigh them. However, this is where as a parent you need to underline the negative consequences of risks very strongly as children often underestimate risks and overestimate rewards.
Coach Kids through Decisions
The best way to help your kids perfect the art of good decision making is to give them first hand coaching. Follow the above mentioned steps and help your kids make wiser decisions whenever they are facing a situation that tests their decision making skills. You can also use your imagination to create hypothetical scenarios such as what to do when your children's friends are
bullying
a fellow classmate etc.As a parent you will soon understand that while teaching your kid to make wise and good decisions is not always easy. It is nevertheless important and one of the greatest gifts you could give your kids.
How to teach children to take right decisions? Why is it important to teach children to take right decisions? How to teach children to differentiate between right and wrong? Discuss here.