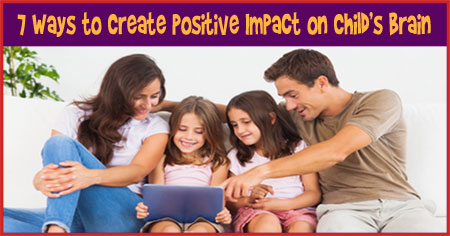 For ensuring right and healthy brain development of children it is essential to develop and maintain a positive environment. Here is how you can create positive impact on your child's brain development.
A child's brain develops at an extremely fast pace during the first few years in the child's life. Researches prove that by the age of three, a
child's brain
is fully developed and in fact it is twice as active as the brain of an adult person. So these growing years are very crucial and needs to be dealt with cautiously.Creating a positive impact on a child lies solely on the parents and to some extent to the teachers. Read on to know the various ways how to create a positive impact on the child's
brain development
.
7 Ways to Create Positive Impact on Child's Brain Development
There are some natural stimuli which children learn by themselves. They cry when they are hungry. They cry when they feel uncomfortable. But there are certain things which need to be taught to children from the very beginning so that they start to learn things in the positive way.
Attachment
We are all social beings. We cannot stay alone for long. This very sense of attachment is to be imbibed in kids from the early childhood. Do not restrain your child within the walls of your home. Let him mix with other kids and let him interact to people. The more he interacts with the more candid he will become in future.
Shyness
and introvert nature have negative impacts.
Bonding
Creating a bonding with family and friends is as important as it is to interact to others. You cannot strive alone in this world. You will need support from your family and friends irrespective of how strong and powerful you become. This very thought is to be explained to children so that they understand the value of family life. This will prevent him from going haywire and lead a reckless life when he grows up.
Proper Nutrition
During the growth years, proper nutrition is of utmost importance. During the first five years the brain shapes up and it becomes the base of the brain development. So the child should be given all the
necessary nutrients
during these growth years for the proper brain development.
Safe Environment
Make sure that your child grows up in a
safe environment
. Keep your child away from abusive people. Always keep a close supervision on your child and his activities. Do not expose him to unsafe toys or unsafe places.
Respond to Your Child's Cues
A toddler expresses himself by his facial expressions and other bodily movements. Being a parent you need to understand what he wants to express. You need to quickly respond to his needs. This will create a positive impact of love and warmth which will be easily understood by the toddler.
Do Not Over Stimulate Your Child
Overstimulation may cause damage to the brain. The brain happens to be very delicate as it is in the developing stage. Any stress or any kinds of overstimulation may prove to be very fatal for your child. Trying to develop your child's brain externally by teaching him more than his age can create a distress. So avoid this and let your child grow up in his own way. Let him explore his world on his own. This will simplify his understandings and he will learn things more quickly.
Do Activities Together
Before a child learns to speak, he learns the language by hearing. So it is very important that you talk to your child even knowing that he is not understanding what you are talking. Do not stop smiling at him, always make a smiling face and see your child smiling at you in return.Always keep a positive environment at home. Do not let any kind of negativity touch you. Keep yourself away from any kinds of stress and anxiety. Even you are in an off mood in office, do not come with an upset face in front of your kid. Try to be very normal in front of him.
How to ensure healthy brain development of children? What are the ways to prevent negative impact on child's brain development? Why is it necessary to create positive impact on brain development of children? Discuss here.