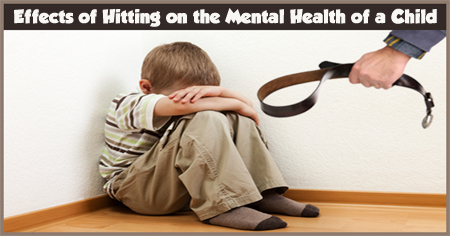 Hitting can make children weak and affect their mental health. Mental disturbance caused due to hitting can also affect their prospective life. Read on to learn how hitting can affect the mental health of your child.
A child enters this world as a loner and gets into the company called parents. Slowly, a child's small society is its
siblings
, grandparents, aunts and uncles. Gradually, they accept the other extended people in the family circle. Along with accepting them, a child also learns behaviour, develops mannerisms and in this process her character is shaped. If this family is having
good social skills
, she picks up the same. If the same close people abuse the child, a child will grow with guilt, hatred and mistrust. This will surely affect the mental health of a child.
Effects of Hitting On the Mental Health of Children
Let us take a look at the harmful effects of hitting on mental health of children.
Hitting will weaken the mental health by acting on the thinking capacity of the child.
A child will always suspect everything and everyone around her.
A child will always try to defend herself and keeps doing the wrong to cover up her earlier mistakes.
She may indulge in tantrums at all major situations.
Tantrum is a defensive mechanism which has unreasonable argument.
Hitting will make the child lose her logical reasoning and the child does not care to do the right things.
She becomes insensitive to others needs and requirements.
She stops caring for wellbeing of the people around her, including her family.
She becomes very passive and when unable to achieve, instead of being assertive, gets too much into aggressive behaviour.
He becomes a loner and slowly gets denied by everyone around her.
Why Spanking or Hitting Kids Should Be Avoided?
It is obvious that "we reap as we sow". If a healthy and well mannered child enters this society, it is surely possible only because of the parents who nurture the child with proper values. Majority of the problems which a child is facing at a very tender age is because of lack of confidence. If the child is hit or physically abused, she loses her individuality.
Effects of Hitting on Child's Overall Growth
A child submits herself to every wrong doing or abuse on her without any revolt. At such situations there is every danger that a child is harassed and is afraid to raise her voice against the same. Every fear in a child is only because she is mentally weak as a result of violence. So as parents we need to talk to our kids, encourage them to voice their opinions, fears and favours. When the child speaks out she should not be teased, mocked or singled out and criticised. This will weaken her and also morally affect her very badly. She will get anxious and can never gather guts to share her ideas.
Consequences Faced Due to Poor Mental Health
Mentally disturbed or weak child leads a fearful and insecure life. A child gets so insecure that she loses the very faith that she cannot be abused by anyone. These kinds of kids face harassment at school by her class mates. Gradually, these kids become non performers and display
behavioural disorders
as they grow in age. They cannot appreciate anything and also become insecure and insensitive to their needs and others needs around them. They slowly tend to show disinterest in every activity and lose enthusiasm in performing.Abuse is always an agony. Hitting blurs a child's vision and reflects as a major health disorder. When a child is not treated properly, she will surely loose her efficient cognitive skills. Every child is entitled for her happy childhood and cannot be abused even by her own parents. If this right of a child is not respected by the parents, a child leads unhappy days in his formative age. If this problem is not addressed or arrested, a child will slowly develop mental health disorders which may become very major health issues leading to psychological problems and also gradually turn towards psychiatric problems.
What are the ill effects of hitting kids? How does hitting affect the mental wellbeing of kids? What consequences can be faced by kids in future because of being hit by parents? Discuss here.