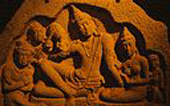 India is rich in its art and cultural heritage, and its colourful handlooms and handicrafts are making waves on the international scene. From Kashmir to Kerala, and Rajasthan to Tripura, almost all Indian states have cottage industries that produce their own trademark artifacts. They produce ethnic utility and decorative items skillfully made from all kinds of raw materials found in nature.
It ancient times, it was a tradition with the artisans to make household and decorative items for a bride's trousseau with which she could make her home. Today, it is not surprising to find a mirror-work Kutchi mobile pouch or stylish capris from these custodians of Indian handicrafts! Far removed from modernity, these very artisans are modifying traditional designs to adapt to more contemporary ones. What better way to decorate your house than with these stupendous objets d' art?
Exclusive Furniture
While you may aspire for an Ikea, you may find interesting options in Indian wooden furniture. They are so different and since they are not mass-produced they retain certain exclusivity. Gujarat's lacquer-work Sankheda chairs and tables come in bright colours and geometric designs and are a regal option for a large drawing room. Hand-painted tables and table-tops from Sawantwadi, a mofussil town in Maharashtra is also an attractive option. Intricate engraved panels, screens and wall-brackets made from teak, shisham, sal or kikar wood in the tribals areas of Madhya Pradesh, Bihar and Rajasthan are excellent props to break the dull monotony of rectangular rooms. They also make engraved jharokas (lintels) to embellish windows and doors.

Environment-friendly Furniture
Exquisite cane and bamboo furniture from the remote Andaman & Nicobar islands and the North-east, is the right choice for an environment-conscious customer. These look very earthy and natural, and are light weight and durable. Intricately patterned and skillfully woven, they make a good fashion statement.
Handloom Linen
Indian textiles are world-famous. There is a mind-boggling array of handlooms to choose from - as varied as the cultural tastes of the different states, themselves. While Gujarat and Rajasthan top the textile market, it has stiff contenders in Punjab, Kashmir and many other states. Gujarat's Kutch is the cradle of incredibly beautiful embroidery and mirror-work textiles, which form the basis of draperies and linen.

Cushion and bolster covers done up in mirror-work, beads and cowries are very eye-catching and come in a variety to suit every pocket. You can stack up on them and change them as often as your moods! They make excellent gift items and sell like hot cakes through exhibitions and boutiques. These are achingly bright; for a softer, pastel effect there is the Kashmiri embroidery.
Dapper Draperies
Orissa's ikat (this is a weaving technique) and Jamnagar's (Gujarat) bandhej (tie-and-dye colouring technique) bedspreads too come in stunning designs and colour combinations.

Where a curtain is not exactly needed, but you need to cordon off an area, you can be innovative. A curtain made of strings of wooden beads (from Shimla in Himachal Pradesh) or one of shells, cowries and mother of pearls (from Coastal India) will provide artistic relief.
Wall Panels
Kutch and Bhuj, the desert towns of Gujarat are famous for their cloth panels used as torans (door festoons) and wall hangings. Torans are panels hung on doorways at the entrance of the house signifying a welcoming gesture. Chaklas are a big draw with the tourists. These are square panels done in vibrant thread- and/or mirror-work and usually have motifs of birds and animals, flowers and creepers. The faded look is much preferred to the stark bright appearance. They come in all sizes - from a tiny panel that frames a doorway to large ones that cover the whole length of the wall.

Wooden inlay panels from Karnataka with the pet theme of elephants and farmers are much sought after, too.
Utility Items
With the opening up of the small-scale industry, and with a lot of NGOs helping them promote their wares, these industries have become very market savvy; quite in the know of the current trends. Therefore, most of them are now making modern utility products like ashtrays, candle-stands, boxes, toiletry- or stationery-holders, CD racks and so on.

Kashmir, with its walnut wood and Himachal Pradesh with its birchwood, are very famous for their kitchen accessories like serving trays, bowls, ladles and roti boxes. Bamboo baskets from the bamboo-rich North-eastern states of Manipur, Nagaland and Tripura can be used in umpteen ways as a storage - from keeping fruits to dumping magazines. Tripura's artisans also make bamboo planters, which is a great accessory for the nature lover who uses houseplants for green indoors.

Bamboo beer mugs, jute coasters and tea cosies from West-Bengal are some other kitchen utility handicrafts that are out of the ordinary.
Decorative Props
Apart from the utility items, there are umpteem other ornamental artifacts that can fit in a niche or liven up some other nondescript corner. Papier mache or leather lampshades, brass or bell metal diyas and chain lamps from Tamil Nadu, enamelled and embossed paan dans and nutcrackers from Uttar Pradesh are just a few examples. The bidri-work (silver inlay work from Karnataka and Andhra Pradesh) vases make fine desktop props.

Animal figurines like sandalwood elephants (Mysore, Karnataka), leather animals such as horse, tortoise and giraffes (Madhya Pradesh) and the very famous Bankura (horse) from West Bengal are good standalones that can break ordered lines of the decor arrangement. They are multi-purpose and can also be used with glass table-tops, as peg-tables. Hookah is another accessory to make a maverick fashion statement.

We have just touched upon how Indian handicrafts can be used as decorative props. Needless to say, the possibilities are endless.