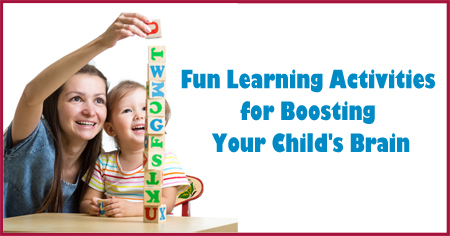 Children learn most of the things through play. So, carrying out different activities and playing different games with them can help to boost their brain power. Read on and learn more about such fun learning activities.

As we have seen small children learn quite fast from others. So at early age if we make some effort for them through fun learning activities, they will get to learn faster. It is not always necessary to buy them expensive toys for having them fun. Children also learn quickly through playing and fun based activities.
It is not necessary always for them to buy toys but with simple household things you can keep them engaging. Here are some fun activities which are also
brain
builders, which you can include in daily routine and see them having fun and gaining knowledge. You need not buy anything for this, but from household items you can arrange for them a great learning session.

Blocks
Blocks are world's oldest toy, with blocks your child comes to know of experimenting. Your kids get to know of many words while playing with blocks like up, down, over, under, in and out. For making the play more challenging give your kids blocks in variety of shapes, different colours and weights.
This game will increase your kid's science concepts, writing and
reading skills
, math concepts, language skills, spatial reasoning etc. Not only this, your kid will learn the importance of responsibility and cooperation by playing this simple game.
Sand and Water

A bucket of water, a basin of sand with few cups and scoops, will keep your child engaged for hours. Moreover he or she is learning about volume, texture, liquids and solids. It is an engaging activity for your child as he or she looks amazingly to the water which keeps on disappearing in the hole which he or she has dug.

Reverse Follow the Leader

This kind of activity will let your child be in charge. It is observed that children learn more when we follow them not when they follow us. If your child is looking up for something do not interrupt but involve with him or her in the search and ask simple questions like "You are searching very hard, do you find anything. This
concentrating
activity with you lets your child to gain more knowledge of words and stimulates his or her brain.

Dress-Up Games
Playing dress-up games lets your child to be imaginative and creative, and this is very vital for them in the long run when they grew older. When children dress up in something fancy or any of their favourite super hero costume they come out of their shell. This will encourage your child's creative power and boost his or her brain development.
Pretend Cooking

Hand your little ones kitchen pretend play
toys
and let them pretend to cook on their own. Children know that they are not cooking but just pretending to cook, and enjoying themselves. This will help your children to learn pre-literacy skills thereby stimulating and boosting their brains.
Hide and Seek

This age old game is the most fun way to develop navigation, mapping, and spatial skills among your children. Your children might not be so obvious with it, to make it simpler for them, hide any soft toy under pillow and let them find it. This will make it easier for them to learn along with fun. When they would play this game with their friends they could learn coordination, agility and this will certainly improve the balance that they need and help to boost their brain.
Spending time with children is really great and watching them learn new things through playing is a great experience too. Try to spend more time with your children ones and see them gaining some new knowledge with different
fun activities
. Apart from these activities discussed above like word games, drawing images, learn from different shapes etc.

What are the ways to boost brain power of children? Which toys and games help to stimulate the brain of children? What kind of activities should parents carry out with children to boost their brain? Discuss here.