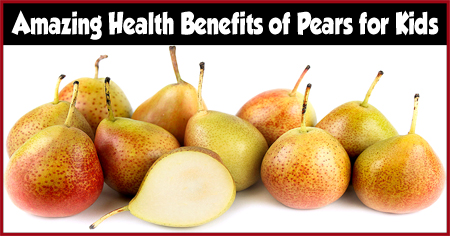 Pears are the store house of many nutrients. They also contain many energy and immune boosting properties. Have a quick look at the health benefits of pears for kids.

Pears are one of the most preferred fruits on the planet as they have a light, sweet and most refreshing taste. Incidentally it is also one of the few fruits that can be fed to infants as the pear is easy to digest. Here are some great
health benefits
of pears for children.

Boosting the Strength of the Colon

The colon has a very important part in the digestive function of the body. In infants the colon is very weak and underdeveloped. The powerful forces of the pear juice strengthen the function of the colon and promote the proliferation of healthy bacterial flora. For kids over the age of four who can actually eat the whole
fruit
can enjoy the beneficial effect of pear fibre that can boost the colon function.

Preventing Constipation
Children have a tendency of getting constipated frequently as their bowel function is underdeveloped. Pears are rich in Pectin which is a mild diuretic and a natural laxative. The pectin will melt the hard stool stones and promote good bowel movement in kids. If your kid suffers from constipation then pears should be an integral part of the diet.

Energy Boosting Properties

Children are highly active individuals who require high energy foods at specific intervals to keep up their metabolic rate. Kids should be given snacks like pear juice between their meals to keep up their energy level. Pears are rich in glucose and fructose which can give an instant shot of energy without piling on unhealthy calories.

Immune Boosting Properties

Kids are susceptible to cough and cold, fever and immune inflammations as their immune system is weak and under-developed. Pears have lots of antioxidants in them which are critically important in
strengthening the immune system
. It is good to give kids pear juice when they are coping with cold. You can also give a daily dose of pear juice to your kids. In time your
children's immune system
will become stronger.

Clearing the Throat

Summers with moist humid spells are very uncomfortable for young children who have a tendency to feel suffocated. Kids also suffer from excessive formation of phlegm in the body which may lead to shortness of breath in the summers. Consuming pear juice is beneficial during this period as pear has natural extracts that melt the phlegm and solve the breathing problem.

Curing Vocal Cord Infections
Kids are prone to tonsillitis and vocal cord infections and there is a very famous Chinese remedy for the same. Cubically cut 2 Chinese pears into small pieces and boil them in water for 5 minutes. Put in some honey in the cup and then put in the molten pears. Eat the whole mixture as this is a proven cure for pain in the vocal chords.

Nutrient Powerhouse
Pears are amongst the most
nutrient
rich foods. They have a range of vitamins in them like Vitamin A1, B1, Niacin, B2, Niacin, Folate, E and C. there are essential mineral extracts like potassium, copper ad phosphorus in pears with low amount of sulphur, magnesium, calcium, iron, sodium and chlorine. There are some varieties of pears which have very rich source of iron in them. These are the ones that brown easily on being cut open. Firm deep textured pears are best for health. Kids love pears generally because of their refreshing taste.
You can choose to cut up pears and top them with cream and honey to make a tasty fruit salad. Alternatively you can make pear puree and mix it with honey to feed your kids who are more than a year old. Pear smoothes with milk or yoghurt with Choco chip toppings can be a nutritive treat for children. There are so many health benefits of pears for kids so make sure that you do not forget to include them in your kid's diets.

What benefits can be enjoyed by kids by consuming pears? Why is it necessary to include fruits like pears in the diet of kids? Which are the simple recipes for kids made using pears? Discuss here.