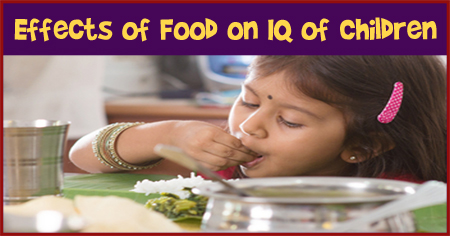 The IQ level of children also depends on the kind of food they eat. Let us take a look at the effects of various foods on the IQ levels of children.

An overall growth can be observed in children only when they eat healthy and keep fit. Apart from providing a positive environment for the kids, parents must also be aware of the foods that can help their children to remain healthy and can increase their
intelligence
. The brain of a child develops maximum till the child becomes 4 years old and so within this period a child gets maximum opportunity of learning new things. The brain continues to develop even after the child becomes four years old and the process continues till the early adult age.
First 2 Years of Life

A proper diet is responsible for supplying the nutrients that are required for the development of
brain
in the first 2 years of a kid. Those children who continue breast feeding till they become 6 months old and have healthy food items like vegetables, fruits, cheese, and legumes in their regular diet between 15 months to 24 months can have two points more
IQ
when they become eight years old.
Those kids who are into the habit of eating biscuits, soft drinks, sweets and chocolates in the first two years of their life have an IQ level 2-point lower by the time they become eight years old. This statistics makes it clear that junk and processed foods have negative effect on the IQ of children.
The pattern of diet that a kid follows from 6 months to 24 months can have persistent effect on the IQ level. Studies have also shown that children who start consuming ready to eat foods when they become 6-months old can have lower IQ levels later on.
Foods That Can Help Kids Increase Their IQ

Certain nutrients help in boosting the IQ level of the children so these nutrients must be included in the regular diet of the kids.
Omega 3-fatty Acids
Walnuts are rich in Omega-3 fatty acids. About 1.4 gram of polyunsaturated fats can be obtained from 1 tablespoon of walnut oil and about 2.6 gm of Omega-3 fatty acids can be obtained from 1 ounce of Walnut. Polyunsaturated fats and Omega-3 fatty acids can be provided to the body through foods and these cannot be obtained naturally by the body.
The brain functioning is done acutely by consuming walnuts on regular basis and therefore it increases the IQ level of a kid. Fish are also rich in Omega 3-fatty acids especially sardines, trout, salmon fishes. The omega 3 fatty acids these fishes produce are already there in the brain and regular consumption of these fishes will sharpen
memory
and improve brain function.
Vitamins

Vitamin E and Vitamin C are very important for proper functioning of brain. Those foods that are rich in these vitamins such as citrus fruits, Almonds, Spinach, Avocado, Broccoli, Parsley, Sesame seeds, and Papaya should be given to kids in various forms.
Vitamin B also plays an important role in building mental strength of the kids. Food items like green leafy vegetables, legumes, nuts, and meat are rich source of folic acid of Vitamin B9 which is an important component of healthy brain development.
Food and Exercise Makes the Balance
Along with healthy food items in diet, physical exercise is also important for mental development of a kid. Kids follow their parents so only when parents set an example in front of their kids, they will start following the proper health regimen.
Eating healthy is a lifelong process and it cannot be incorporated in young kids very easily. The process has to start when the kids is a toddler so that eating healthy becomes part of his or her life and will have long term effect in building intelligence level of the kids.
How does food affect the IQ level of children? Which foods help to boost IQ levels of children? Which foods are responsible for poor IQ in children? Discuss here.