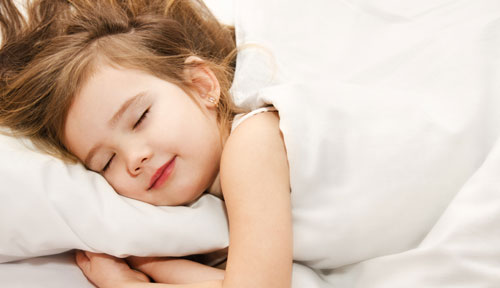 Babies need at least 11 to 14 hours of sleep, preschoolers need at least 10 to 13 hours of sleep and school going children need at least 9 to 11 hours of sleep. Read on to find what role adequate sleep plays in the healthy growth and development of children.
Sleep is very necessary for everyone and plays a vital role for boosting good health, especially for children. Regular and enough sleep at night protect the quality of life, mental and physical health. While we are asleep, healthy brain functioning happens and brain gets ready for the next day.To know the serious nature of sleep in children, every parent should get educated on the detailed factors that help in proper sleep. The principal penalties of meagre sleep among children are behavioural issues, weakened education and school presentation, attitude and sentimental problems, and poorer
fitness
including obesity. Below are some of the reasons for the question "why children must get adequate sleep?"
1. Prevents Health Disorders
There are many proved studies stating that
insufficient sleep
may result in some serious health problems like diabetes, obesity, heart attacks and various other heart diseases. Sometimes, the health risks due to sleep loss may be not seen at an early stage, whereas consequences get visible after a few years.
2. Boosts-Up Learning
When a child sleeps, she looks so peaceful, but the truth is her brain is busy throughout the night. Sleep supports in learning for all ages of children and education specialists state that naps have a precise magical trick. Nowadays children are busy with too many things and therefore it is not easy to ensure that they get adequate sleep. Exams, regular tests, extracurricular activities and involvement with the gadgets are the few factors that overburden them every day and thus, adequate sleep is compulsory to boost up learning capacity.
3. Improves Immunity
An important protein essential for children called cytokines that helps in fighting against infection, stress and sickness is produced during sleep. Besides these immune boosting qualities, it also urges children to sleep well without any distraction. Limited sleep reduces the count of cytokines.
4. Impacts on Weight
Few evidences state that when a child does not get adequate sleep at night she becomes overweight. Using few techniques like swaddling or swinging the kids permit to have a deep sleep and chances of becoming overweight is less. Many researchers say that the children who are very tired and have lack of sleep crave high-fat food.
5. Lessens Pain
If a child has chronic pain or have taken any
vaccination
, enough sleep will actually lessen the pain. Few researchers have found that sound sleep is a medication of any kind of pain.
6. Freshens-Up the Mood
Children with
good sleep
look fresh after the nap and are more active in their daily actions. But when they are exhausted and do not get enough sleep, their emotional health gets affected.
7. Improves Memory
Is your child forgetting what is taught in school or what she learns in institutes? The reason behind this memory loss is lack of sleep. Research shows that brain processing starts and fuses the memories while they sleep. Hence, to develop better memory, plan for a good sleep time for your children.
8. Prevents Behavioural Problems
Many children display aggressive behaviour in school and with neighbourhood friends due to insufficient sleep. An adequate sleep can help to prevent such behaviour in them. Any child without sleep during nights often falls asleep during the daytime as she feels so tired due to other activities. Due to this micro-sleep, children's daily schedule gets affected. To help children have a good sleep, families must cooperate to create a peaceful environment. Avoid usage of electronic devices such as TV, radios or any other audio stuff at night. Instead of parents making the child to sleep, allow them to sleep on their own. It helps them to carry-out their activities without dependency. A good bed-time routine and a comfortable bed can help children get good sleep at night.
How to help children get adequate sleep? At what time should children go to sleep every day? What are the ways to develop a good bed-time routine for children? Discuss here.