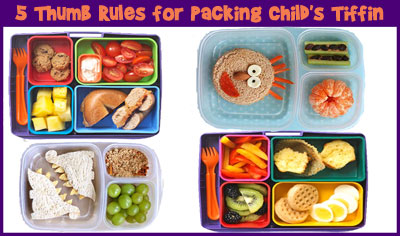 Are you packing your child's lunch box the right way? Here are 5 rules of thumb which you must follow when you pack your child's lunch box.
What is your child eating? Is your kid bringing the lunch box back home half-eaten? Is your child making excuses of not eating the food you pack for him or her? All these questions related to your child's poor appetite may worry you, but the real fact is every child's appetite is different depending on the activity and body structure. You have to constantly monitor the nutritional value of your kid's lunch box along with retaining the taste of the food as good food directly affects your kid's mental and physical growth. Have a quick look at the 5 rules which you must follow while packing your child's lunch box.
1. Be Innovative
Boredom and lack in variety are few of those reasons your kid does not like to finish eating the food, so help him or her by creating all new recipes with a change. There are no standard cooking rules and you can change the ingredients, add substitutes, stir in your kid's favourite vegetables and dare to be different! Every time you come up with a new dish which is tasty and packed with the nutrients your kid needs, there will be no complaints of half-eaten lunch box.
2. Pack Healthy and Appealing Food
This does not mean you need to add food colours, but try adding range of colourful foods by pairing two or more different coloured vegetables. If your kid opens the lunch box and finds everything green, it may not appeal him or her. Bits of orange colour (carrot) with green (beans) and a little red (red bell peppers) in them look so exciting. So mix the vegetables of different colours when you cook. Also, pack the fruits of different colours and make sure that you always provide healthy and nutritious food in your child's lunch box.
3. Present the Lunch Box Nicely
Your kid may not like the same old shape of square sandwich, round cookies, diced fruits, and chopped vegetables. Kids like to have food in a more interesting way and you have to put your effort behind it. Get a cookie cutter to make different shapes, get a vegetable cutter with assorted shapes of cutting different vegetables, and also same for your sandwiches and fruits. Your kid would be excited to see so many new shapes and hog all of them happily.
4. Think of Creative Food Names
Kids jump on the new names of the menu at restaurants; you can play the same trick at home. For example, your kid may get bored of having the idea of eating the same club sandwich; grill the sandwiches and call them Panini – see how your kid reacts on it! Make a mental note of different names of food served in the restaurants, and when you pack the food in the lunch box, make sure to tell your kid the exciting new named dish you have packed today.
5. Pack the Right Way
Make sure that the food retains its taste till lunch time of your kids. Kids dislike the food when it loses its taste or texture or colour when packed incorrectly. Avoid packing Khichdi as it turns hard and unpalatable when it gets cold. Make sure to add ice cubes into the curd and put it in an insulated container to stop it in turning sour during the hot days. Make the filling of the sandwiches and rolls dry or put a cheese slice or a layer of lettuce between the filling and the bread to prevent it from getting soggy.
Kids are more likely to eat what they see their parents eating. So set a good example by eating the same food that you are packing for your kid. Do not get worried much as long as your kid is healthy and growing at a steady rate. Fight the reasons why your kid does not finish the lunch box, and you will soon come across empty lunch boxes.
How to make sure that kids do not bring lunch box half-eaten? How to pack an appealing lunch box for kids? What are the thumb rules for packing lunch box of kids? Discuss here.