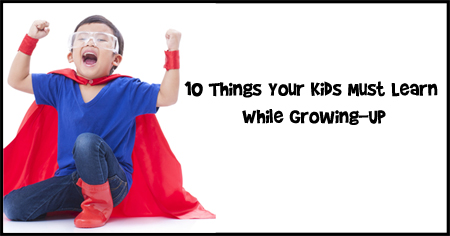 Parents can help children in their overall development by inculcating essential skills in them. Learn about 10 things your kids must learn while growing-up.
As parents you will certainly want your kid to grow up to a happy and independent individual. You will certainly want her to outshine you and enjoy a comfortable life.You need to keep in mind that every child is an individual and shall take her own time to develop. Your baby's brain was not fully developed when she was born. The brain weighed only one quarter the size of your brain. Her brain has been growing fast since then. It is in this course of time that she imbibes the different
life skills
.In the initial few years your baby's developments can be categorized into different milestones. This specific timeframe is known as a "window". This is the time when she acquires most of her skills. If you think she is lagging behind somewhere, you can have a talk with her teachers or even consult a doctor.Here we have listed 10 such essential skills that you can help incorporate in her. You can also seek help from her school to make sure she is been groomed well in every single way. Take a look below:
1. Problem Solving Skills
Your child shall develop her
problem solving skills
in school. In fact it starts from when she is around 2 months old. At a young age she shall start exploring the environment around her with her hands, eyes and other senses. As she grows old, she shall be able to solve more complicated problems of life.
2. Self-Control
Your child's social and emotional development shall begin too from a very early age. She shall learn the art of self control and also help others. At a very young age it shall begin with simple things like a smile, or waving bye-bye so that later she shall be able to socialize with clients and colleagues at work.
3. At Least One Foreign Language
Language and speech developments shall help her communicate with those around. While at 12 months she shall be able to gabble few words, she shall be able to speak and express herself without any trouble with age. She might as well learn a few foreign languages to
communicate
with foreign delegates at work.
4. Knowledge of Different Gadgets
Development of the fine motor skills begins at a young age. While at a very young age she may learn to pick up objects, turn pages of a book and hold a spoon, she shall be able to use different gadgets with age. Parenting experts are against usage of gadgets for children. But letting kids use such gadgets in moderation can help them acquire knowledge of such gadgets which can definitely help them in future.
5. Physical Fitness
During this period she should learn at least some activities which can help her stay fit forever. Encourage her to take part in out-door sports. Let her learn different yoga asanas which she practice in her day-to-day life to stay fit.
6. Social Responsibilities
She must grow up to be a
responsible civilian
and the education shall begin at home. She must be taught to exhibit her best interest for her family, society and community.
7. Being Psychologically Strong
Psychological development shall help her develop her self esteem and cope with the daily circumstances. This shall help her to grow up as an independent, responsible and capable individual.
8. Being Creative
You must make sure she shall have scope for leisure and creativity from a very young age. Do offer her the opportunity to express herself through different social activities.
9. Being Spiritual
Her spiritual development shall depend on the lessons you offer at home and school. Allow complete development of her conscience and thought in the cultural context.
10. Knowledge of Culture
She must learn to appreciate her culture and develop a strong sense of attachment with her community. She must also be thought to respect other communities from a very early age.These are some of our few compilations. Do share the other things you believe a kid must learn before growing old.
Which are the important skills that kids must imbibe? How can parents help kids in imbibing essential skills? Why is it important to cultivate right skills in kids during early childhood years? Discuss here.