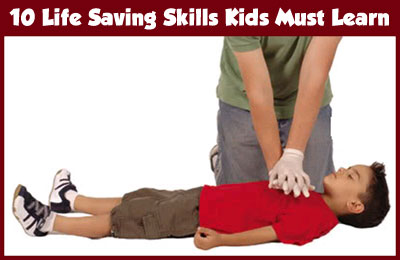 When parents are preparing their children to become independent and self–sufficient individuals, it is important they make them learn some of the basic life saving skills for emergency situation. Read on to learn about 10 life saving skills which kids must learn.
Emergency situation often arrives without any warning and if you are not prepared for that, it might turn hazardous. In addition to having learned life saving skills, you should also teach your child to use his common sense and make best use of his presence of mind without panicking. In this way he will be able react wisely if he finds himself in any such situation in his life.
Top 10 Life Saving Skills Kids Must Learn
Have a quick look at the l0 life saving skills which parents must teach their children.
1. Swimming
Drowning is one of the most common accidents causing death especially in case of kids. Along with helping your child learn how to swim you should also train him to help save someone's life if he finds him drowning. Learning to swim is not only challenging, but also rewarding. Along with learning a life saving skill,
swimming
provides your children an opportunity for recreational activity and a healthy lifestyle as well.
2. CPR
Cardiopulmonary resuscitation or
CPR
has gone through some changes in the years, but there are some basic actions that could be done by anyone who is around. First, if the person is not responding, you should make the emergency call. Second, if the person is not breathing, tilt person's head and give one-second mouth to mouth breaths. Third, you should also give chest compressions and if condition is serious combine it with mouth to mouth respiration until the person starts breathing himself.
3. How to React to Snakebite
If anyone is
bitten by a snake
that seems to be poisonous, the first thing you should do is calm the person and ask him or her to stay still. Try not to move the body part that is bitten so that the spreading of poison is slow in the body. Make emergency call and remove any jewellery before swelling starts. If you have seen the snake, try to remember the size and colouration of the snake if possible so that the treatment can be done accordingly.
4. Providing Aid for Heart Attack
If you think someone is having heart attack you should
Make the person rest and calm down.
Loosen tight clothing.
If the person is suffering from heart problem, he must be having an SOS medicine. Ask for the medicine and give him.
If the pain does not go away in 3 minutes, you should make the emergency call.
5. Controlling Bleeding
There are different types of bleeding starting from a minor scrape to arterial bleeding which is the most dangerous one. However, if your goal is to control bleeding, you should
Clean your hand first and wear clean gloves or clean plastic bag.
Have the person lie down with the bleeding site elevated.
Remove dirt or debris from the wound.
Apply continuous pressure with a clean cloth or bandage for 20 minutes without removing.
If the bleeding persists, apply pressure to the artery.
When bleeding stops, do not move the body part and leave the bandage also in place.
6. Help with Choking
If anyone is choking and cannot breathe, there is a technique called Heimlich manoeuvre which can be learned to save someone when choking. The technique differs in the case of child, infant and adult. It is very important to learn the technique properly before doing because if not done correctly, it can do more harm than good.
7. Treating a Burn
Although large and severe
burns
are treated by medical professionals, you can at least give first aid to them before they receive any treatment. However, for small or not so severe burns you can opt for treating it at home also. Run cold water over the burn for at least 10 minutes. If pain persists, acetaminophen or ibuprofen can be given.
8. Treating Low Blood Sugar
Usually people who are diabetic suffer from hypoglycaemia if they skip or delay a meal or snack, take more insulin than required, exercise or take alcohol without eating carbohydrate. No matter what the case is you can give the person a small chocolate, 1 tablespoon of honey, jam or jelly, 1 tablespoon of sugar in water or offer 1/2 cup of fruit juice or even take some fruit like apple, orange, raisins, few grapes or 1/2 banana.
9. Treating Shock
When you are
treating shock
, first, lay the person down and elevate his feet for 12 inches if there is no injury on head, neck, back or hip. Turn the person on side if he is vomiting or bleeding through mouth. If needed, give CPR. Keep the person warm and comfortable and call for emergency.
10. Treating Heart Stroke
Heart stroke is medical emergency and so, you should call for emergency immediately. By the time help arrives you can:
Move the person to cool place
Remove unnecessary clothing
Cool the person's entire body
If needed, give rescue breathing
Give the person some fluid to avoid dehydrationDo not give aspirin
Hopefully your child will never need to put these life saving skills into play. But in case there is an emergency, your child will know how to react and what to do. It is always good to gain knowledge and the confidence to use these skills so that you stay safe and save someone's life if necessary.
Which life saving skills should be taught to every child? At what age should children start learning life saving skills? How to teach life saving skills to small children? Discuss here.