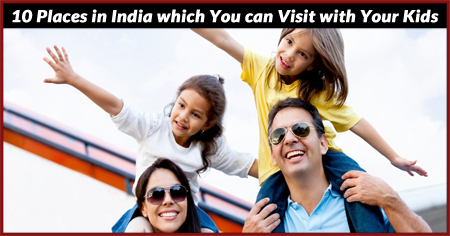 Children love to travel and feel very excited when you plan a holiday. But finding places that would be equally exciting and interesting for you and your kids is a big challenge. Read on to learn about 10 places in India which you should visit with your kids.



It is possible that you find planning a holiday with kids a daunting task, but if you choose destination carefully, you might find things rather interesting and enjoying as well.
If you are planning a holiday with your kids and you want to go where both of you have lot of fun, you should consider one of the holiday destinations described here.
1. Bangalore

Bangalore is a city that offers variety of options both, for kids and adults. With kid pleasing entertainment, you get comfortable weather condition throughout the year. The pleasant weather will help you get the maximum enjoyment and kids will also not complain about very hot or cold weather conditions.
Places You Can Visit With Kids in Bangalore

Here are some interesting things that kids can do in
Bangalore
.
Cubbon Park
Cubbon Park is a place where you can enjoy nature in its magnificence. Amidst the lush greenery, your kids can have fun with a ride on toy train, climb to the tree house as well as the fortress.
Planetarium
Planetarium is a place your kids are going to love. Enjoying the sky theatre shows along with spending time and exploring the space at the planetarium, your kids would also find the museum interesting.
Hindustan Aeronautics Limited Museum
Hindustan Aeronautics Limited Museum can help your kids catch a glimpse of the fighter jets, helicopters, rockets, combat air-crafts, missiles and satellites.
Bannergatta National Park
If your kids get excited by the wild life, Bannergatta National Park can satisfy their love for wild animals. Along with observing animals in natural habitat by going on a jungle safari, your kids can learn more about wild life by visiting the Snake Park and museum there.
Amusement Parks
Last but not the least are the numerous amusement parks in the city that your children are simply going to put in their energy. These rides are going to boost up their entertainment share and a trip to the film city will complete your vacation. There are plenty of things to observe and explore here.
2. Cochin

The exciting backwaters, houseboats and majestic ships of Cochin are definitely going to keep your family off their feet.
Places You Can Visit With Kids in Cochin
Let us take a look at the places that you can visit with your kids in Cochin.
Cochin Ship Yard
Your kids can learn and see on their own how ships are made at Cochin Ship Yard. Along with seeing the majestic ships, they can get a taste of life on high seas.
Bolgatty
You can take an exciting trip to a quaint island, Bolgatty by a boat where you can tranquil backwaters and even stay on a houseboat.
Elephant Training Camp
In addition there is an elephant training camp where your children can see elephants in action. It is best to explore the life and culture of the people there and the south Indian cuisine is definitely going to leave your kids excited.

3. Ooty

Ooty
is known as 'Queen of Hills' and is in South India. You are going to have a lot of fun along with your family out there. Along with the beauty of Western Ghats, you are going to have a beautiful experience of fishing, boating and horse riding.
Things Your Kids Can Do in Ooty
Have a quick look at the things you can do with your kids in Ooty.
If you love irony and kitsch, you will like the Thread Garden.


The oldest church, St Stephens's Church is worth visiting.


The oldest church, St Stephens's Church is worth visiting.


The kabab centre is the place where non-vegetarians are going to have real enjoyment with the royal cuisine.


Botanical garden and Nilgiri library are places where your children will have different type of enjoyment.

4. Nainital

Nainital
is another best place you can enjoy with your kids. In addition to the beautiful sunrise and sunset, you can enjoy boating, shopping at the Tibetan market, snow view and many more things along with visiting the Naina Devi temple. These are simply some of the best places you cannot miss with your kids.
Things you can do in Nainital with your kids
Naini Lake is the centre of attraction in Nainital and you along with your entire family can have a wonderful time here.


If you want to get a glimpse of snow covered mountains you can plan your holidays accordingly. You will get a panoramic view of Himalayas here.


In addition to the natural atmosphere, your kids can have a wonderful time trekking and rock climbing, especially when they are old enough to do that.

5. Delhi

Delhi as you know is the capital of India and has varieties of things to offer to almost all age groups of people. Here you will find monuments, cuisines from different parts of India and get a glimpse of rich culture and heritage of India.
There are plenty of things to do and explore in Delhi. The beautiful Lodhi gardens, garden of five senses and the zoo will help you and your children get a glimpse of different kinds of animals and plants. Have fun shopping in the Delhi Haat and Chandni Chowk along with knowing more about trains in the National rail Museum.
6. Jodhpur

Your kids will like the fairy tale like atmosphere in Jodhpur with the magnificent and grand palaces. You will get a quick look of royal life and living here. You will find that your kids are going to love and get soaked in the rich and vibrant culture of
Rajasthan
. They will get a golden opportunity to relive the history of India.
Things you would like to do in Jodhpur with your kids
At Jodhpur you will get a chance to live the royal life and the fairytale like atmosphere in Jodhpur Palace, Rai ka Bag palace and many more.


You can also have the spice of real village life of Rajasthan in Guda Bishnoi village.

7. Hyderabad

Hyderabad is the best place to catch a trace royalty and culture in the city of Nawabs. You will find a perfect blend of modern and ancient culture and activities for kids.

Things your kids would love to do in Hyderabad
It will take almost a full day to visit the Ramoji film city as it is spread in 2500 acres of land.


You will get a glimpse of history by visiting Charminar and Golconda Fort. The light and sound show held here is definitely going to excite and thrill your children.


You can have lot of fun with your family at Fundustan where there are gardens, shows, puzzles and challenges. Your kids will stay busy the whole day here.


Nehru Zoological Park is going to make your children become animal friendly and know lot more about them. The toy train ride, Dinosaur Park, elephant rides and safaris are all going to help you get much more than expected for your kids.


One of the most important and significant attractions of visiting Hyderabad is the Snow World where your kids can enjoy the snowfall and many games played on snow no matter when you go.

8. Mumbai

With the Bollywood crowd and amazing tourist destinations, your kids are going to love the time they would spend in Mumbai.
Things you can do with your kids in Mumbai
Visit the Gateway of India and get some photographs clicked here. The flock of pigeons is going to leave your kids excited and thrilled.


You can go for a boat ride here.


Take a ride on the Double Decker bus and see Mumbai in the style of the local people.


Visit Essel World, Nehru planetarium and the zoo with your family.

9. Gujarat

Your kids are going to enjoy the different culture and friendly people of Gujarat.
What you can do with your kids in Gujarat
Children know and have read a lot about the Father of nation. Let them pay a tribute to Gandhiji by showing them the place where he was born and where he lived in his initial age.


AMUL milk and chocolate factory in Anand is worth visiting and with kids things are going to get all the more exciting.


Traditional textiles and crafts of Gujarat will make you enjoy shopping here.


When you will savour the Gujarati thali, you will find the perfect blend of sweetness and spices.
10. Chennai

Chennai is the only metro city in south India and is one of the most popular cities of India as well. There is a wide range of tourist attractions for kids here.
Things you can do with your kids in Chennai
Plan a picnic on Marina Beach and have fun with the sand and sea.


At Anna Zoological Park your kids can have a close look at the animals and spend some time in wild life.


Let your kids explore the historical monuments and beautiful sculptures at the historic town, Mahabalipuram which is 60 kms from Chennai.

Before planning any trip abroad with your kids, it will be advisable to visit some places in India having plenty of attractions. Have some fun and enjoy the varieties that India offers to the tourists that come from inside the country or out of the country. You will have some of the most heart warming experience and a memorable holiday, for sure. Explore the above places with your kids and have a wonderful experience that will last for your life.
Which places in India are worth visiting with kids? Which travel destinations in India are not suitable for kids? How to plan a holiday with kids? Discuss here.