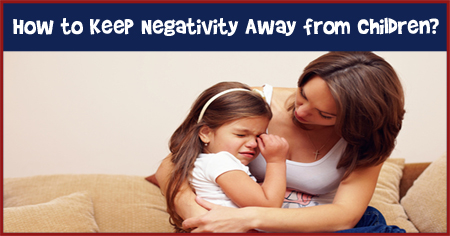 Positive and cheerful environment is very conducive for the overall growth and development of children. Therefore, to develop such environment it is necessary to keep negativity away. Here is what you can do to keep negativity away from children.

Today's world seems to be full of despair and darkness. Wherever you go, you automatically spot something that causes you to get depressed. This negativity gets the better of you and as a parent your main concern is to protect your children from it. Will this be easy? No. Is it impossible? Again, the answer is no. Below are a few ways that can help you keep negativity away from children.
Clearly Define Negativity

Firstly, you need to have a clear definition of negativity in your mind so that you know exactly what is it that you want to
protect your child
from. You may want to protect your child from people with thoughts of deceit, falseness and dishonesty or you may want to protect him or her from acts that spread negativity among people like biased news articles or pieces, that degrade someone or some institution because of personal issues. Each aim requires you to adopt a different course of action.
Do Not Hide From Reality

Most of us feel that the best way to protect our children from negativity is by not letting him or her come across happenings in the world that includes
terrorism
, robberies, murders etc. Parents think that let the child hear only good news about acts of kindness, gratitude and love. Just because the ostrich chooses to bury its head inside the ground on sensing danger, does not imply that it is not there. You cannot keep your child away from reality forever. What is important is that you teach him or her to process the news in the right manner.
Have a Positive Attitude

In order to fill your child with
positivity
, you need to be positive at all times. There are times during which stress and pressure get the better of you. You begin to speak about all the things that are not right in your life. You begin to find faults in your job, in your home, in your relationship and all this fills you with negativity, which you cannot hide from your child. He or she will sense this negativity in you and will in turn begin to get negative thoughts in his or her mind. Do not let this happen!
Be Generous

Expose your child to the goodness in you. Be generous, caring and respectful towards others. Show compassion and love for all. Be an inspiration for your child. Let him or her see and learn that how acts of generosity help and change people's lives for the better and bring a smile on their faces. Let him or her see how this fills you with peace and solace. In this way, do your own little bit to lead your child to be big-hearted and full of positivity.
Watch Your Tongue

Sometimes, you need to protect your child from yourself but this is easy. You just need to change a little. Every time you feel like
abusing
or using depressing words, take a deep breath and think of the good things in life. Do not let words with negative connotation come out of your mouth.
Love Immensely
Last but not the least, love your child. Love has great power to absorb all the negativity around you. One smile filled with love for your child every day is all that you need to do. Let your child know that he or she is loved and you are by his or her side at all times. No matter where they go and what they do, let them know that you will be there for them. Fill their heart and mind with love, leaving no space for negativity to creep in.
It is not an easy task to accomplish; no one said it would be easy. You need to be determined and willing to do all that is required to keep negativity away from your children and I am sure that you are. Now that you know what needs to be done, good luck.
How to keep negativity away from children? What are the effects of negative environment on children? Why is it necessary to raise children in a positive environment? Discuss here.