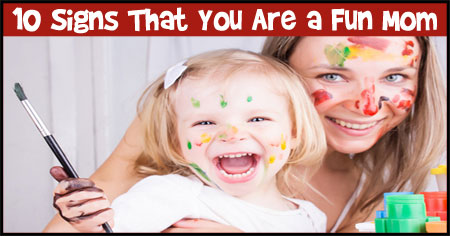 Forgetting all the stress and regrets to be a fun mom is essential to raise happy kids. Are you enjoying your motherhood to the fullest? Read on to learn about the 10 signs of a fun mom.
Maintaining a routine is very good but barking orders all day to make your children follow the routine can make you feel stressed, and even the kids can get easily burnt away. It is important to have fun and laugh with your kids. Here are 10 signs that you are a
fun mom
.
1. You Call for Surprise Parties at Home

You are a fun mom if you all of a sudden plan for some exciting fun
parties
at home. It can be a pajama party where everyone has to wear pajamas or it can be a dance party where you can dance funnily with your spouse and kids.
2. You Have Tickle Time Together


Tickling is fun. If you are a mom who loves to tickle and fake-wrestle with her kids, then you surely are a fun mom. When the evening is boring and you want to bring the fun up, go tickle your kids and laugh out together.
3. You Watch Movie Together


Having movie nights together with a tub of homemade hot popcorn is totally fun. You must know what to allow your kids to watch, so if you are a fun mom, you must have a collection of
movies
to watch with families.
4. You Play Games Together


If you get excited
playing
games with your kids, then yes, you are a fun mom. It is a great way to go along with your kids. If you have kids of different ages, then make sure you pick games that cater all ages.
5. You Go for Picnics


Take your kids out for picnic. Fun moms love to pack homemade food or cook at the picnic site. You can bring more fun by introducing different games and activities in the picnic. It is fun to go out for picnic with your family.
6. You Show Your Skills


Pick up any of your skills, be it mimicry or singing or dancing, and enjoy doing it with your kids. Fun moms involve their kids to participate in their skill activity. It also helps them get introduced into new skills.
7. You Surprise Them with Special Treats


How about surprising your kids by taking them out to have special dessert after dinner when they are expecting it the least? Yes, you must have things like that in your mind and you do that occasionally if you are a fun mom.
8. You Do Simple Things Together


Library is a great place for kids; park is a fun place to play around; and it makes your kids feel special when they go for grocery shopping with you. You are surely a fun mom if you take your kids to such places along with you.
9. You Have a Break-Rule Timing


Fun moms are great in making fun of their own rules. For example, select a particular rule and do completely opposite of that on a particular day. It can be something to do differently, such as start your dinner with your desserts.
10. Follow Their Lead


You should have one particular day where you just have to follow your kids. If you are a fun mom, then you may allow your kids to take you to bed, allow them to decide what should be cooked, how to arrange the rooms, etc. It will make them feel responsible and would be fun at the same time.
You can do a lot of fun with your kids, but you should always remember the limits – never overdo anything, otherwise it may get difficult for them to understand when to have fun and when to be serious. Teach them to laugh even in the stressful moments, as long as it is under control.
How to be a fun mom? What are the unique characteristics of a fun mom? Why is it necessary for a mom to be fun loving mom? Discuss here.