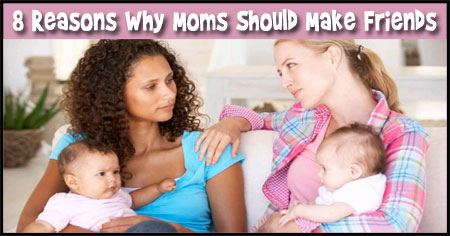 Making friends with other moms definitely proves beneficial for moms as it can help them to improve their parenting skills and knowledge. Let us take a look at the 8 reasons why moms should make friends.

Being a mom means a lot of responsibilities coming your way. Your child becomes your first priority whatsoever the situations are. But it is also important to take some time out for yourself; take a break from your child and just relax, you do not have to feel guilty for this, it is absolutely ok to spend some time with yourself, doing all those stuffs that you like to do, make new friends and spend time with them. Here are some reasons discussed why you should make friends.

1. To Get Rid of the Loneliness
Moms should make new friends in order to get rid of their loneliness and to make their busy lives a little easier. Loneliness can lead to depression and will affect both you and your child. So always try to stay happy and enjoy each day that life is offering to you.

2. To Discuss Things about Child Rearing
Moms need this because the first time moms remain ignorant of many things regarding child rearing. Discussing topics with her friends will make her be a
better mom
. How the kids are to be fed, what should be the daily diet for the babies etc can be easily discussed. What are the problems that the baby is facing can be discussed and solved through simple home remedies known by other moms. More precisely, during emergencies the friends can be of a lot of help to the new
mothers
.
3. Sharing Womanly Secrets
Sharing your secrets with your friends feels like a relief. Things which you cannot discuss even with your husband can be easily discussed when your friends are around. A little gaggling and laughing your heart out with your friends, makes your day. Staying at home and inviting your friends at lunch or dinner will also do if you cannot make out to go out leaving your baby alone with the nanny.
4. Eat Without Fearing of the Calories
Sometimes you definitely like to eat whatever you want without fearing about putting on those extra pounds. When you are together with your friends you give each other tasty treats which you all enjoy without having the guilt feeling because you see others are also taking that extra calories and enjoying themselves.

5. Have Someone Beside You Who Understands You
With the new arrival in the family, your relationship with your husband changes a little. Sometimes it so happens that husbands get upset about disability to spend much time with the little one as much as the mother. This creates a gap in the
relationship
between the two of you. At this point of time you need someone by your side who will understand what a toll it takes to take care of the little one, how many sleepless nights you spend for the baby, how much you care for the baby and your husband and how to
keep the spark alive
in your relationship.

6. Because We Are Social Beings
We need friends because we are social beings and cannot live alone in the society. We need company in whatever we do. This helps us to stay mentally healthy. A healthy mind leads to a healthy body.

7. Kids Also Get Friends
If moms can be friends their kids will also find their fellow beings. The kids play among themselves while the mothers engage in their deep discussions about the various topics they experience in their lives.

8. Set an Example for Kids
By making new friends and socializing with others you are setting an example to your kids to be social rather than grow up to be an introvert.
Kids like to follow what their
moms
are doing. So always try to set a good example to your kids so that they learn the good things in life.

Do moms need friends? What are the benefits of making friends with other moms? It is better to join moms' clubs and online communities? Discuss here.