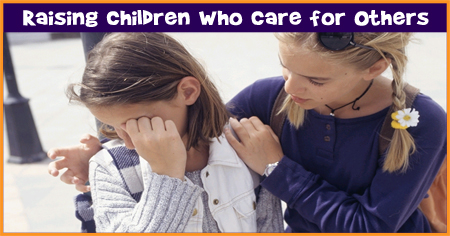 It is necessary to teach kids to care for other to raise them as good humans. Imbibing caring nature will also help them in their personal development. Have quick look at the tips for raising kids who care for others.


All parents want their kids to care for others. To instil this caring nature in kids, parents should also be caring and kind to others. When children find their parents helping others in their needs they will automatically grow this sense that caring for others comes first in the priority list. Here are some tips given how to raise kids who care for others. Have a look at these tips.


Encourage Kids to Share

Teach your kids the habits of sharing. Keep sharing as the first priority and show them that 'sharing is caring'. Your kids will learn when they see you sharing your stuffs with others.


Teach Them to Feel the Pain of Others

Show your kids the abundance they are living with. Ask them to imagine the amount of pain and struggle one has to bear for existing in this world. It is only by God's mercy that they are living so happily without any scarcity. But there are people who do not have homes for shelter or the food to eat. Teach your kids to feel the pain of those people who live in the slums. Only then they will know how to care for others.


Teach Them to Help the Poor

Teach your kids to help the poor and the needy. Teach them to share things that they have in excess.


Encourage Children to Show Courtesy

Encourage your kids to show small gestures of care. Like urge them to say 'thank you' or write a note with caring words.


Work Together to Help Others

Kids love to copy what their parents are doing. So if you are willing to help others take your child with you. Show how kindness can be ushered and how the needy could be helped. Your kids will also find ways to help others. Dresses which your kids are not using anymore because they have outgrown may be given to the poor who do not have enough clothes to cover their body with. Ask your kids to be compassionate to these people.


Mercy of GOD

Tell your kids that they have everything because God has been good to them and God wants them to be caring towards others. God will not tolerate anyone harming the poor. This fear of God will turn your kids to be caring even if they are not. It is also due to their childish nature that kids do not want their things to be shared with anyone. There is nothing to worry about it. They will outgrow this habit with age.


Happiness in Caring

Tell your kids that there is much happiness in sharing rather than enjoying things alone. Happiness is in helping others. Selfishness is not expected from anyone. If you help others, others will also help you when you will be in need of their help some days; these things to be taught to kids from the very beginning.


Respect

Teach your kids how to respect others. Teach them not to belittle anyone on the basis of financial status. Show them how to take care of their possessions as well as others' possessions.


Positive Thoughts

Teach your kids to look at the bright side of things and have a positive attitude towards everything. This will help them to focus on a single objective in life and help them succeed in their serious endeavours.


Gratefulness

Teach your children to appreciate things in life. Teach your children to be grateful to God for whatever they have. Teach them to give up unwanted longings for anything that is not needed right at this point of time. This will bring happiness in their lives.

Teaching kids to care for others is not at all a difficult task if you yourself know how to care for others. Your kids will simply copy your good as well as your bad attitudes. So being a good example to kids is what is needed the most.

How to help children develop a caring nature? Why is it necessary for children to care for others? How does caring nature help children in their personal development? Discuss here.