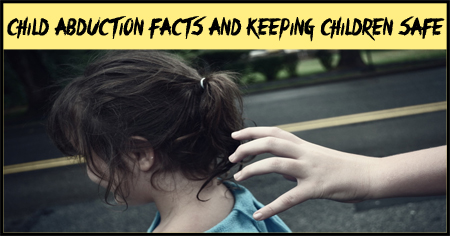 It is essential for parents to be alert and aware of the child abduction facts so that they can take right measures for safeguarding children. Read on to learn more about the child abduction facts and keeping children safe.

Nothing is more important to parents than the safety and security of their children. However, the increasing crime rate and the burgeoning child abduction rates have planted seeds of worry in the minds of parents. As a parent it is important for you to be aware of the
child abduction
facts in India.

Government Child Abduction Records

The government records show that approximately 2 lakh children have been missing till now and about 45% of these kids remain untraced. The data released on missing children has been released by the home ministry in January 2016 and it showed than more than 3.50 lakh kids went missing between 2011 and 2015. On an average it can be said that every year 1 lakh kids go missing. The Crime Record Bureau of India reveals startling facts about abduction rates as one child is abducted every eight minutes
State Wise Abduction Statistics
State statistics show that Maharashtra has the worst rate with more than 50,000 kids disappearing in last 4 years. Andhra Pradesh, Madhya Pradesh and Delhi are the next in line with an average of 25000 missing kids in the last 4 years. Most states have more missing girls than boys.
In Maharashtra alone, 10,000 more girls than boys went missing. In Andhra Pradesh there is almost double number of girls missing than boys (girls 11,626, boys 6,915). In Madhya Pradesh 15,000 girls went missing in comparison to 9000 boys. Delhi too shows a skewed gender ratio with 10,581 girls missing in comparison to 9,367 boys. Police files say that that more number of girl children are abducted to feed the growing sex trade in India.
How to Protect your Kids?

As a parent you need to be constantly vigilant and aware in order to protect your kids from the horrific fate of abduction. There are many things you could do to make sure that your kids are safer.
Make sure that you have the contact numbers of all your kids' friends' homes and teachers and anybody whom he or she is in contact with.
If possible fit your kid with a tracking device that keeps you updated with your child's current geographical position. Research says that children who are connected to tracking devices stay 80% safer as compared to kids who have no access to tracking devices.
Make sure that you instruct your kid to stay away from any
strangers
even if they appear friendly. Strictly tell your children not to accept gifts, chocolates or any eatables from strangers.
If your kids are older give them access to a cell phone with a video calling facility so that they can alert you. Make sure that your children know the number of the local police station and ask them to alert at the slightest hint of danger.
Top Reasons of Abduction

There are many reasons as to why kids are abducted and while some reasons are common like money, extortion, revenge and
sexual exploitation
there are other more startling facts. Police files show that kidnapping of child by a parent is becoming common and this happens primarily after
divorce or separation
. Sometimes close family members are also involved n the abduction. Kidnapping by paedophiles is another reason which is gained prominence in recent years.
Sensitising Kids

If your kids are a little older (say, above 5 years of age) then slowly start sensitising them towards what abduction or
kidnapping
is. Describe how unpleasant things like abduction can happen and why it is important to minimise interaction with suspicious or unknown adults. Also make sure that your kids know that it is okay for them to share every detail of their day with you including incidences of anybody following them or trying to act extra friendly towards them.
If you are more aware of child abduction facts you can take proper steps of precautions for protecting your kids. Remember, it is always better to safe than sorry!

How to prevent abductions and kidnappings of children? What are the ways to safeguard children from abductions? Which devices are helpful to find out child's geographical position? Discuss here.