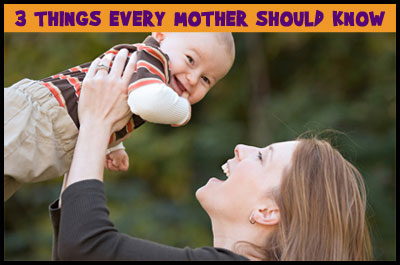 What kind of a mother are you? Are you a fun-loving or organised mother? Read on to find three questions and three lessons which you will learn by asking these questions to yourself as a mother.

Wondering if you are able to offer the best to your child? Do you think you can be a better mom in some scenarios? Well, relax; this happens to the best of us. Since we want nothing but the best for our little ones, we tend to doubt our mothering styles time and again.
You need to remember mothering comes in different types and what may work for you, may not work for others. Similarly it can be the other way round as well. Undoubtedly mothering is all encompassing and can be tagged as the most demanding occupation. While we all totally love our kids, there are days when we are tired and some of the duties appear overwhelming.
If you are like the easy going
moms
, ask yourself if you follow the practices discussed below. If your answers to them are yes then kudos to you. You have just got it right!
Have a quick look at the three questions which every mother should ask herself.

1. Do You Follow the Happy Mothering Styles?
A popular saying suggests if the mommy is not happy, the whole family dooms into depression. Yes, mommies you set the tone of your home. You are at the helm of affairs at home and your kids are taking emotional queues from you. You have lost as a mother if your kid is running your home. Keep in mind, there is a reason why they are kids and you are a mom. If you are of the happy natured ones, your home shall always remain a joyous place.

2. Are You the Organised Type?
Mommies, if you are stressed you simply cannot enjoy your vocation. If you are among the disorganised types, you are actually adding up to your family stress. However, this does not mean you need to be a perfectionist.
If you are an organised mom, you are aware of all the stuffs of your kids.
Motherhood
in fact becomes lot easier when you are organised. When you are organised you feel more relaxed and enjoy happy times with your kids.

3. Do You Value Self Care?
Mothering does not simply means looking after your child or family. Mothering includes taking care of yourself as well. Your health is as important as the wellbeing of your children. Do you think you are among the mommies, who spend time taking care of themselves? If not, you need to rethink, as watching you following self care practices shall be powerful
lessons for your child
too.
Do not let the postpartum depressions to affect you much, as this generally tends to wear away with time. Postpartum depressions are result of hormonal changes and stems out from the fact that you are not able to be productive at work. Relaxing exercises like Pilates, yoga and tai chi shall help you feel refreshed and give you back your lost vigour and vitality. Sufficient sleep, proper nourishment and nutrition are key factors to your health.
If you keep mothering practices fun then you are actually following the healthy
parenting styles
. Proper organization and self care practices shall keep you refreshed and happy. Mothering is simple, you need to keep it simple and stay focused. You will keep falling in love with your children again and again this way.
There is actually no manual available when it comes to mothering. All that works is your intuition and common sense. Mothering brings immense joy and offers gifts of forgiveness, caring, sharing and self knowledge. There is nothing wrong if you feel guilty about yourself at times. It is very important that you learn from your
mistakes
and try not to repeat them. Mistakes should be taken as learning opportunities.

What are the important characteristics of a good mother? How to become a good mother? Why is it important for mothers to be organised? Discuss here.