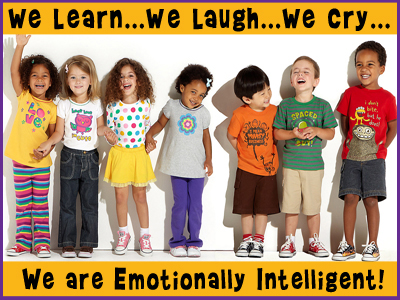 Emotional Intelligence is the ability of people to handle their feelings. Read about how Emotional Intelligence can improve your child's life.

Little Rahul came home crying. His mother Sujata had trouble trying to calm her sobbing six-year-old son. To make matters worse, when she managed to get Rahul to calm down, Sujata's eldest daughter Salomi came in looking depressed. It took Sujata a long time to cajole her children into telling her what had upset them so much. Rahul finally revealed that a boy in his class had bullied him by calling him names. Salomi sullenly divulged that she hated sports. The reason was that she had been teased and humiliated on the playground for not being able to play basketball with the other girls.
It is important for parents to teach their children to express their feelings. Understanding a child's emotional intelligence is the first step in doing so.

What is Emotional Intelligence?
Emotional Intelligence is the ability to manage one's emotions in a healthy and productive manner. Parents today realise that it is not only their children's intelligence quotient (IQ) that is crucial for their development but also their emotional quotient. The terms emotional intelligence and emotional quotient were first used by psychologists Peter Salovey and John Mayer in 1990. However, it was Daniel Goleman who is famed for his popular books on the subject that helped spread awareness.
Emotional intelligence helps in developing emotional self-awareness. This allows a person to understand his feelings. It also empowers a person to handle emotions appropriately, showing him how to handle stress and upsetting or conflicting feelings. It also deals with self motivation, encourages empathy, and other social skills.

Why is Emotional Intelligence Important for your child?
Emotional intelligence is measured in terms of Emotional Intelligence Quotient or EQ. Emotional intelligence is important for a child not only to understand himself, but also helps him to understand the feelings and emotions of others.
A child with a high emotional quotient will become more responsible and respectful. He will have an increased ability to show empathy, and find it easier to develop self restraint. On the other hand, a child with a low emotional intelligence will often feel helpless.
If a child receives very little emotional support at home he will be vulnerable to peer pressure, worry, and anxiety. A child may deal with his anxiety and fear by hiding it under a facade of toughness. This could lead to his turning into a bully, or becoming an under-achiever suffering from low motivation.

How can you increase your child's Emotional Intelligence?
Understanding and nurturing your child's emotional quotient requires you to observe your child and ascertain the feelings that are behind the behaviour. Encourage your child to try to explain his feelings. Understand that your child may be unable to describe his feelings.
Developing your child's emotional quotient starts with teaching him to understand his feelings. One way to do this is to describe your own feelings to your child, helping your child to classify feelings. It also gives the child a label to name the feeling. Using words such as 'I' and 'you' will help to give onus to feelings. For example, "It looks like you are frustrated with that math problem."
Give your child a framework of limits that he must adhere to. This will help ensure that he builds self control, and does not allow his feelings to always determine his actions.
Introduce him to activity books that are specially written to help build a child's EQ. Try to think up exercises that will help your child learn to wait for things. These exercises will also teach him how to handle disappointment, and how to persevere with a challenge. Remember that the challenges and exercises need to be designed keeping in mind the child's age group. What may be challenging to a younger child may be too easy for an older one.

What is the difference between IQ and EQ?
A person's Intelligence Quotient can be measured by conducting a battery of IQ tests. An IQ score remains more or less the same throughout a person's life. On the other hand, an EQ score can be increased as a person can be taught how to understand and deal with others feelings. An IQ-oriented person will focus more on facts to convince a person while an EQ-oriented person will use emotions and his cognitive abilities to appeal to a person's feelings and reasoning. EQ is more important in gaining success and happiness in your life.

Do your children have trouble giving voice to their feelings? Do you think EQ is more important than IQ? Do you feel EQ should be nurtured in regular course curriculum in school? Discuss
here
.