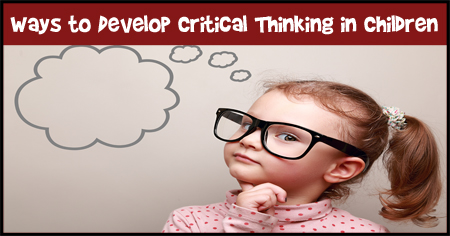 Developing critical thinking in kids helps to boost their IQ and helps them in apt decision making in future. While exploring the world around them, children can be helped to enhance their critical thinking skill. Read on to know how.

You must have heard about critical thinking and might be wondering what exactly it is. Although, much is talked about developing critical thinking in school, parents should also foster critical thinking at home. The best thing is that children can develop and strengthen critical thinking provided they are supported properly by parents and teachers. Development of critical thinking skills should be encouraged right from early childhood so that the
confidence of child
is also boosted.
Here are some tips to help you support and teach your children in developing critical thinking so that they grow up to become
problem solvers
.
Tips for Developing Critical Thinking in Kids
Have a quick look at the some tips for developing critical thinking in kids.
1. Let Kids Explore
Allow your kids to explore and observe things around them. Provide ample space for playing and make sure they get proper time and opportunity to play indoors as well as outdoors. Let them try things and observe what happens. Try something else and see whether your child gives a different reaction or not.
2. Let Kids Guess Answers to the Questions They Ask
Do not answer the question raised by your kid immediately. Instead, ask what he or she thinks about it or what ideas he or she has. Just keep in mind that even if the answer is not correct respect it and correct him or her later. Let him or her explain why she thinks that way.
3. Encourage Your Child to Find Solutions to Problems
If there is no harm, let your child come up with some options. Ask him or her about the solution and help him or her with some tips so that he or she tries and succeeds. Do not jump-in immediately and every time with a solution for every problem.
4. Help Children Come up With Suggestions
Let your child assume what would happen if he or she does a specific thing. Let him or her think what kind of reactions could be for specific actions.
5. Encourage Different and New Ways of Thinking
If you will allow your child, you will be surprised to see how many suggestions he or she comes up with. This will help them develop critical thinking skills especially if you encourage them to come up with different options.
6. Help Them Look for More Information
When your child gives you suggestions, accept the ones near to the solution and let him or her dig some more information from books or internet. You can also encourage him or her to ask questions to the person in the family who knows that.
7. Let Your Child Compare and Contrast
When kids
compare
two or more things, they come to know about the similarities and differences the things have. This helps them classify and evaluate information. Let your child compare and contrast stories. This is one of the best ways to help them improve their critical thinking.
8. Let Your Child Provide Conclusion
Read or tell stories to your children without giving them the conclusion. Let them come up with options and see how they think and analyse. If the story has similar ending of a
fairy tale
, you can give a hint also after some time.
Critical thinking can be encouraged in kids through everyday problems also. When you go out with your child, ask questions and let him or her compare two buildings or any two things. However, do not let your child solve complicated problems or answer questions which are not age appropriate. It is practically not possible also.
On the other hand, when your child will observe you solving, she will learn from that also. This will hugely help in developing critical thinking in your child in the long run. Depending on your child's age you can involve her in thoughtful discussions and admire his or her answers and suggestions.
What are the ways to develop critical thinking skills in kids? Why is it important to develop critical thinking skills in kids? By what age should parents encourage critical thinking in kids? Discuss here.