Summer Jobs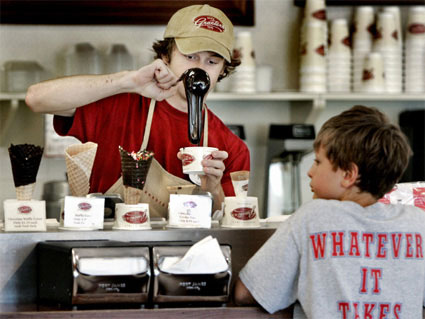 Is your child going to take up a part-time job this summer, will he be hanging out with friends all day or will he be getting bored at home? Here's why a light job can go a long way in making your child more responsible.
The sooner your child starts work, the sooner he will start shouldering responsibility. While children in the West

often undertake light summer jobs during their vacation, this is not so common in India

, largely due to the fact that labour is not as scarce

in India

as it is abroad. However, if your child does get an opportunity to work for a month or two in your office or with someone trustworthy, there is no reason for you to deny him the opportunity. Don't force your child to work against his will. But if given the opportunity, you will see that most

children

will jump at the idea of getting a

part-time job

in the summer vacation.
The general tendency

in India

is to believe that the father or parents should be the bread earners, and that

children

should focus on their studies. They seem to lose sight of the fact that personality development is just as important if you want your child to succeed. Naturally the money earned by your child can go into his account, and even though the amount may not be large, it will accumulate over the years, and your child may have a decent bank balance by the time he graduates.
Even if your child's job consists of nothing more challenging than addressing envelopes, don't discourage him from taking it up. Once your child starts attending office, he will develop a feel of workplace culture at an age younger than his peers. He will also be exposed to different people, of different age groups. Until now, most of his mixing would be with peers. But the minute your child starts working, he will be exposed to people of various ages, and he will get to see things from an adult's perspective.
When

children

are in school or even in colleges
in India
, they are leading a sheltered, cocooned existence, and have little or no exposure to the real world. As a result, they are not always aware of the various choices they have.

Children

are limited to the exposures of their peer group and their family, and work broadens this exposure. It also takes them a step further to making a career choice. A clerical experience at a law firm will give your child an insight into the way lawyers work, and may help him decide that he wants to do law. Similarly, if your teenager works as a salesgirl in a shop for a few months, she may realize that she has a knack for fashion, and get into fashion designing.
More important than career exposure, however, is the exposure to shouldering responsibility. Everyone probably remembers their first job, and the thrill they had at earning their first salary. Such a boost, when given to a child, goes a long way in building his confidence and moulding his character.
In India
, if our

children

want something bigger like a toy, or a musical instrument, parents don't even dream of getting their

children

to earn it themselves. Instead, we ask our

children

to behave themselves, study harder, and if they are good boys or girls, we will fulfill their wants. Often these wants get fulfilled on their birthdays or on some occasion, irrespective of whether or not they have been 'good'. If instead your

children

get to buy what they want with their own money, the joy and satisfaction will be so much higher. In addition, you will be putting your

children

on the right path by showing them the rewards of work.