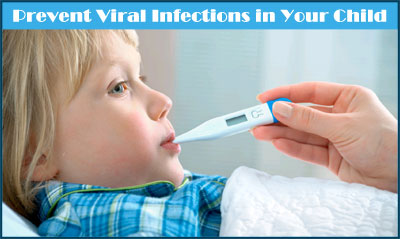 Viruses are all around us and it is impossible to escape them but viral infections can be prevented. Read to know how to prevent the virus from infecting your kids.
Children are more susceptible to viral infections than adults and this makes it difficult for parents to ensure their good health. Looking after a sick kid is never a fun task and it usually denotes sleepless nights and intricate schedules on the part of the parents. Therefore, it is necessary to try your best to keep your child away from
viral infections
. Keeping a family always free from viruses is extremely hard but a couple of essential tips and tricks are given below that might help prevent the underage members of your family from falling sick:

1. Washing Hands Properly
The habit of
washing hands
should be inculcated in your kids from an early age since almost 80% of all infectious diseases are spread through touch. Healthy children are easily affected by other sick kids but as long as they wash their hands on a regular basis, the germs have a lower chance of making it from their hands into their mouth or eyes. The right way to wash hands is to rub them together for 20 seconds or so with any brand of soap. Alcohol-based hand sanitizing gels may also be used.

2. Disinfecting Methods
It is always recommended that you disinfect the surfaces in your home even though they appear clean. This can go a long way in preventing the viruses from spreading to your child. Any surface that is generally touched by your toddler, such as tables, doorknobs, handrails, must be wiped off properly with disinfectants. Plastic toys can easily be cleaned with dishwashers and washing machines can work wonders on dirty stuffed animals. Your disinfecting practice should extend to the sink in the bathroom, the toilet and the floor.

3. Importance of Good Diaper Hygiene
If you have a really small child, they probably wear diapers and you need to be careful with dirty ones since they are a breeding ground for viruses. The changing table should be cleaned regularly and you might even lay a fresh blanket over the changing pad while you are putting a
diaper
on your kid.

4. Sharing is Not Always Caring
Children are taught about the importance of sharing from a young age and on most accounts, it is a wonderful habit. However, in some cases, sharing can lead to an attack by viruses, especially if your kid shares food with any sick peers at school. Try to prevent any swapping of silverware, food and cups.

5. Keep the Bathroom Spotless
Even though viruses do not live on towels for long, they can live long enough to affect your
healthy child
. Therefore, it becomes necessary for you to launder them on a regular basis. If someone in your family is sick, you might even consider switching to disposable paper towels for almost a week in order to prevent the viruses from infecting your kids. Based on the same principle, you should also try to replace the bathroom water glass with disposable paper cups for some time. Try to replace the toothbrush of your kid at regular intervals in order to prevent the spread of viruses.

6. Suitable Disposal Methods
Try to keep the environment as clean as possible at all times. Take the trash out on time, clean up any accumulated water and dispose off any tissues in the room.
These methods may seem foolproof but they are not always feasible since your children may try to resist. Therefore, it is important to talk to your kid and explain to him or her why these practices are necessary. As long as they put in a little effort to prevent viruses and wash their hands often, you can expect them to remain healthy.

Why are children often susceptible to viral infections? How to prevent viral infections in children? Which hygienic habits can help to prevent viral infections in children? Discuss here.