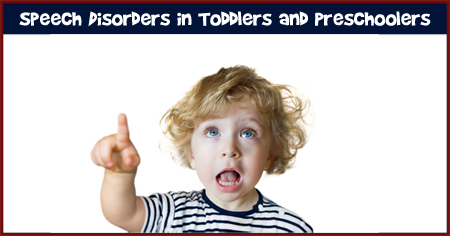 Speech disorders in toddlers and preschoolers manifest themselves in different ways and speech therapy may be needed to overcome them. Check out different speech problems and their treatment options.

Most of the children find it difficult to pronounce certain words till the age of 4 or 5. Some cannot make certain sound clearly, but these problems get sorted out after some time and practice. Some
speech problems
are indication of speech disorder and need professional help.
Children take time to pronounce words clearly. Some say it correctly the first time they learn, while some need practice for that. However, some children simply cannot master sounds because they suffer from speech disorders. There are many reasons behind having speech problem in small children, but if it is detected and treated early, the child can become normal sooner.
Difference between Speech Disorder and Language Delay

Speech disorder does not hamper good language skills. The child finds it difficult to pronounce certain words but can understand and use words in apt places.
Language disorder is when the child is not able to speak few words within the age range. It is also possible that the child suffering from language delay will not understand what you are saying.
Symptoms

Although there could be many reasons behind a child suffering from
speech disorder
, following are some of the common ones.
Repetition of words or phrases after the age of 4


Pausing in between sentence with tightening of lips


Putting additional sounds or words in between sentences


Making words longer


Jerking head when talking


Blinking eye at the time of talking


Avoiding to speak and feeling embarrassed when talking


Tensed voice and sound


Feeling frustrated when the child has to talk


Distorted sound when talking


Left off or substituted sound when speaking


Errors that make it hard for other people to understand


Pitch of the voice gets changed suddenly


Running out of air between sentences


Voice breaking in or out
Treating Speech Problems

Depending on the severity of problem, treatment is suggested. If the problem is mild it is quite possible that it will disappear with time. However, some of the severe problems can get treated by speech therapy. With the help of the therapy the child learns how to create certain sounds.
Where to seek help?
Speech Pathologist

If you think your child is having speech problems, you should get in touch with a
speech pathologist
or ask your pediatrician to suggest the right professional to help your child improve his speech. The pathologist will ask you to bring your child for few sessions which would be either one-to-one or with a group of children. He would also plan a session with you and your child.
Audiologist
An
audiologist
will help your child with speech problem only when she has hearing problem also. They will check whether the child has impaired hearing and if it is found they will tell you how this is going to affect your child's communication.
Other Professionals
Your pediatrician might suggest you some other professionals who can work with you and your child to find out a solution. This happens usually when the problem is not severe or there is no additional impairment in the child that needs to be treated.
It is quite natural that some children take longer time to speak different words or words with clarity. As a parent you have to have patience and support your child in every circumstance. Spend some time and ask few questions so that your child talks to you. Encourage your child to speak slowly so that she is clearer. Let your child have confidence in you that you are listening and understanding what she wants to say.
When should parents be concerned about speech problems in kids? How can toddlers develop good language skills? How does speech therapy helps the toddlers overcome speech problems? Discuss here.