Baby's Diet After One Year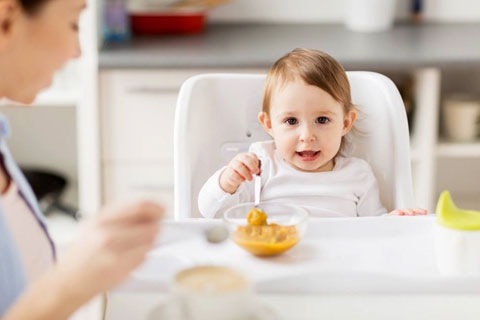 After one year the child should be started on variety of foods so that it develops tastes. Cow or Buffalo's milk can be given along with seasonal fruits and vegetables. Chapati made of whole wheat should be given as it is nutritious. Read on to know more.
After the child is a year old, you should gradually let the child start getting used to foods made for the family, in terms of taste as well as consistency.
Milk
Start giving cow or buffalo's milk from a glass 2-3 times a day.
If the

child

does not like milk, milk preparations like fruit salad in milk, curds and cheese should be given.

Fruits

Rice and Chapati
Chapatis should be made from whole wheat. (Do not throw away the bran).
Polished rice is not as healthy as unpolished or par-boiled rice.

Vegetables
Green, orange, red and yellow vegetables are essential. Scrape vegetables like potatoes instead of peeling them.
Use the water in which rice or vegetables have been boiled; it contains essential

vitamins and minerals

.
Do not overcook vegetables. If you want to make the vegetables soft, gently mash them with a spoon.

Dals, Eggs and other high protein foods
Make sure foods high in protein (such as pulses or dals, gram, peanuts, peas, beans, eggs, fish, mutton, liver) are given.

Sprouted gram or moong is very nutritious.

Chocolates, cold drinks, coffee, etc
Chocolates, cold drinks, flavoring agents, tea, coffee, etc. should be avoided as far as possible because they contain chemicals and caffeine that can be harmful to the

child

.
These filler foods can also ruin the child's appetite for nutritious meals.
You may also be interested in: