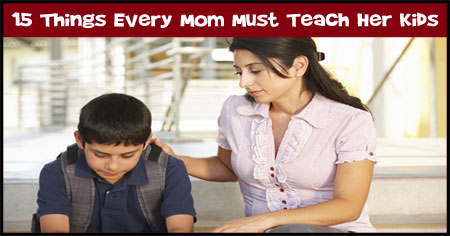 There are certain things which kids should learn to grow-up into good human beings. And kids can learn such things in a better manner only form their moms. Therefore, moms should be aware of all the essential qualities to be inculcated in kids. Have a quick look at the 15 things every mom must teach her kids.
There are certain things that need to be taught to kids from the very childhood days. This is required to imbibe good habits in kids for a good future. Moms play a very important role in every child's life. She understands her kids like no one else. Here are certain things discussed that every mom must teach her kids. Have a look at these.

1. Respecting Others

This is the most important lesson in life.
Respect
can be earned only if you know to respect others. This is to be taught to kids from their childhood. They should learn to respect their friends, their teachers and elders.

2. Being Kind to Others
Kindness is one of the greatest virtues of mankind. Teach your children to be kind to the poor and the helpless.

3. Being Self Reliant
Being able to rely on oneself is very important. One should learn to walk alone so that he or she faces no problems at times of need. Moms should teach her children to have self confidence so that they have the capability to win over the toughest of situations in life.

4. Differentiate between good and bad
A mom should teach her children the ways by which good can be differentiated from evil. The kids should know what is good and what is bad.

5. Follow Proper Discipline
Proper
disciplines
in all the aspects of life should be taught to the kids from the very beginning. This will help them in their future endeavours.

6. Make Good Friends
Friends have a special place in everyone's life. Teach your kids to have good companions who will be with them in times of need.

7. Be Helpful to Others
Teach your children to help others in every possible way when there is a need. Only then they can get help from others.

8. Not to Engage in Unnecessary Arguments
Teach your children to keep away from any kind of unnecessary
arguments
whatsoever. It may cause unnecessary harassments.

9. Self Defence
Admit your children especially girls to some
self defence
teaching institutions. This has become very important in today's world. They should be fit enough to protect themselves.
10. Following Hobbies
Hobbies cannot be taught though, but every kid must be encouraged to develop some kinds of hobbies in leisure time. Extracurricular activities are also important to kids besides
studies
.

11. Keep Surroundings Clean
Moms should teach her kids to keep themselves clean and also to keep their surroundings clean. This is a sign of a healthy mentality. It also helps in keeping a strong state of mind. Unkempt look mars a person's personality. It is the outward expression that people judge out of a person. A good personality will help your child have a bright future.

12. Practice Patience
Teach your children to have patience. Things go wrong when they are done out of rage. Teach your children to stay calm even in times of adversities.

13. Being Decisive
Teach your children to be decisive in giving priorities to their work. Every mom should teach her children to take proper action in terms of urgencies.

14. Have Outer Knowledge
Knowledge of books is not enough to thrive in today's world. Every mom should teach her children to make their general knowledge stronger by reading different articles available. Encourage your kids to read more.

15. Teach Your Kids to Be a Good Listener
Being a good listener is one of the attributes to prosper in life. One can only be a good speaker if he or she is a good listener. Kids should know the tricks to empathize with others. This should be taught to kids from their childhood days.
Besides studies kids should learn these basic things in life to have a brighter future.
These things are to be taught by someone who are the closest to kids, and moms are the closest persons in everybody's life.

How do kids learn good virtues and qualities? What role can dads play in inculcating good values in kids? Why is it important for moms to practice and preach good behaviour to kids? Discuss here.