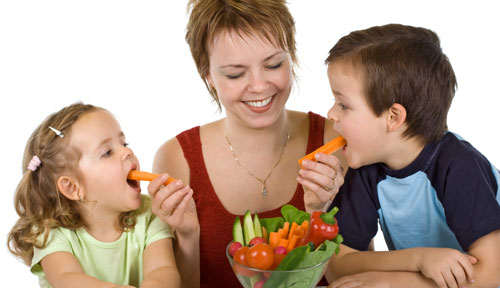 Helping children develop a stronger immune system is possible if parents take right measures during early childhood years. Listed below are some simple ways that parents can follow.
Today due to increasing pollution and sedentary lifestyle it is necessary to take extra steps to boost the immune system of children. Building a stronger immune system during early childhood can help to lay down a foundation for a healthier life. Therefore, it becomes extremely crucial for parents of young children to take right precautions. Here are some tips for parents.
Boosting Immune System of Children
Find few things that can help parents to boost immune system of children.
Inculcate Healthy Eating Habits
It is a must to inculcate healthy eating habits in children to boost their immunity. They must eat home-made and freshly prepared food. Parents must ensure that ready-to-eat meals are not included in the diet of children at all. It is always a good idea to include home-made snacks in their diet. It is natural for children to demand junk and fried foods like chips, fries etc. Making a rule to give such foods to them once in a week can help. Allowing children to eat their favourite foods once is week can do no harm.
Encourage Physical Activities
It is necessary to encourage physical activities in children. Parents must motivate children to get involved in any of their favourite outdoor activities at least once a week. They can get involved in outdoor games or other activities like cycling etc. One hour of physical activity is a must to maintain height and weight of children and boost their overall immune system.
Enforce Hygienic Habits
It is a must to enforce hygienic habits in the daily schedule of children in order to prevent common and other illnesses in them. Washing hands before and after eating, wearing clean clothes, eating food that is kept in hygienic condition, using clean utensils to eat food and drink water etc; are some of the hygienic habits that kids can follow. Following hygienic habits is not difficult for children if proper rules are set for them by parents.
Ensure Adequate Sleep
Children should get adequate amount of sleep so that their immunity is boosted. If they get adequate amount of sleep they grow well. If their schedule is very busy, it is necessary to ensure that they go to bed early. If they get some time in the afternoon, they can take a nap for some hours during this time.
Do Not Put Too Much of Pressure
Whether school activities or other, it is necessary to encourage children to do all such activities freely. They should not experience any pressure or tension while doing such activities. Too much of pressure or tension can affect the immunity of children. Ensure that they are always cheerful and happy. Do not let pressure of studies or other activities spoil their childhood. To avoid too much of pressure on children, parents can plan a right schedule for them.
Living a disciplined life is a must to help children develop a healthy immune system. At the same time, it is a must for parents to be a role model for them by following a healthy lifestyle. Individuals who follow a healthy lifestyle fall ill less frequently. So, inculcating a habit of following a healthy lifestyle in children can do wonders in helping them grow-up into healthy, strong and fit individuals.
What are the ways to help children develop a stronger immune system? Which are some of the immune boosting foods? What can affect the immunity of children?Discuss here.