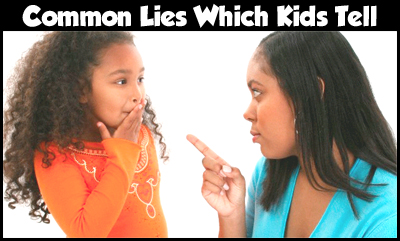 Being a parent you must be aware that your child does not always tell you the truth. Although it is very hard to believe, there are some common lies which kids tell their parents often. Read on to learn about common lies that kids tell their parents.
Even the most innocent kids have kept truth to themselves at times. The reason can be anything from keeping a bad grade to themselves or sneaking for a party. May be it is their incredible cuteness or your blind trust on your child that make these lies believable, at least for the moment.
However, just because your kid lies to you often, does not mean that all this is going to continue. You can break this habit in them by learning the truth behind their common deceptions. So, be careful next time your kids tell a lie because now you know about the most common lies of kids.
10 Common Lies Kids Tell Their Parents
Here are the top 10 common lies which kids tell their parents.
1. "I don't know"
If things are not going to be in their favour, they are not going to tell you even if they know the truth.
2. "I finished my homework"
If there is a good show coming on TV or kids have play date with their friends, this is what they are going to tell you.
3. "I did not do it"
This is a reflex answer. Even if they know that you know who did it, they are going to tell you this lie.
4. "My brother, sister or imaginary friend did it"
Things do not end when your child is saying, "I didn't do it". Deflecting the blame on sibling or imaginary friend is an easy way out and they will do that, for sure.
5. "I finished my lunch"
This happens when you packed the lunch for them to school and they had to share or give their tiffin to a friend in exchange of something desirable or just for the fact that he or she does not like what is packed in his or her tiffin.
6. "I need to go pee"
This is something you will hear when you have put your little just on bed or you want your young kid to complete his homework first.
7. "I feel sick"
This is one of the common lies to avoid going to school and stay back to watch TV or do whatever they like the whole day.
8. "I don't like you"
Most kids say this and it looks like a zinger to parents. Most parents take this very lightly.
9. "I will listen to you"
This is a lie that your kid is saying because he wants to set himself free from the pressure of the warning that you have just given.
10. "[Friend's name] is allowed to"
When you have said 'NO' for something, your child is definitely going to present this lie.
5 Reasons Why Kids Tell Lies
1. Self-defence – In order to avoid punishment or when not willing to disappoint adults
2. Profit – to get some kind of reward
3. Modelling – when imitating someone
4. Denial – to avoid dealing with painful situations, feelings or memories
5. Self-image– when the child is frequently called a liar, the child may begin to lie
The best way to help your child from lying is to encourage honesty. For this you should teach, model and discuss the importance of honesty with your child. Do not forget that children learn what they observe and so you need to be a role model for your child. Talk about moral behaviour and discuss the options that humans have in different situations. Find out the main reason why your child is lying and figure out a suitable solution for that.
Why do children lie? Which are the common lies kids tell their parents? How to break the habit of lying in kids? Discuss here.