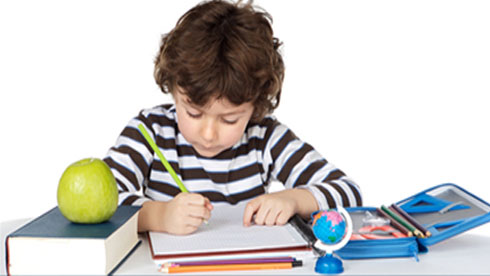 It is very necessary to cultivate good study habits in children. Good study habits can help them excel in their academics. Let us take a look at some tips for improving study habits in children.
Parents want their kids to perform extremely well in studies and so, they find helping them with their homework and studies very important. Although homework is the last thing your kid would like to do after getting back from school, it is a very good way to help her develop self-regulatory skills. This is going to serve them well for their whole life. Children need support from parents, but it is important to improve your child's study habits so that the skills to fight challenges and make right decisions in life becomes easy for them.When parents take interest in their
child's studies
and development, they develop confidence, responsibility and independence. Here are some tips to help your child improve study habits and stay ahead in all walks of life.
1. Establish a Routine
To raise smart kids, we need to improve their study habits and establishing as well as following a routine is the first step. Plan a regular
study time
and remind children when it is time. You can help them get started initially. Make sure you remain firm no matter what excuses and protests come in the way. Consistency will facilitate consistent results.
2. Make Yourself Available
Establishing routine and encouraging children study on their own does not mean that you are free from the responsibility. It is fine to
read
or work nearby, but you should be available for your kids to answer questions. Encourage them to try solving problems on their own first and come to you when they have tried everything.
3. Praise their Effort
Praising helps a lot in
encouraging kids
. If you see even a little bit of increase in effort and consistency in your child, praise her. Speak specific words of praise so that she understands well what are you praising for. If you feel like rewarding, avoid using rewards as bribe.
4. Make a Study Calendar
Making a study calendar will help kids submit all kinds of work on time. There is daily homework, weekly homework and long term projects that kids have to work on and submit before the deadline. In order to stay organized it is good to make a calendar so that everything is noted down there. They can break down the large project work and write the steps on calendar to follow them properly and consistently.
5. Create a Notebook for Noting Down Assignments
There should be a specific notebook in which your child notes down the details of daily, weekly homework and long-term projects. They will not forget the work or the submission date. They can also keep the phone numbers of their class mates in case they need any kind of help from them.
6. Meet the Teachers
It is good to believe in your child, but you should not trust the age in which your child is. To save yourself and your child from any kind of pull back effects, meet her teachers at regular intervals. This will also help you stay aware of the subjects that they are learning, how they are performing in class and whether or not they are up to the mark and expectations of their teachers.In addition to the tips mentioned above, you should pay attention to making a fixed home work place for your children which should be away from distractions. Help your child to become responsive and let them involve other family members into their study needs. Encourage your child to keep books, notebooks and stationary back in place after their studies are over. This will help them stay organized all through their life. If you help your child improve study habits in childhood, she will grow up to be a responsible and successful adult.
How to improve study habits in children? What kind of study habits should children follow? What is the importance of parental involvement in studies of children? Discuss here.