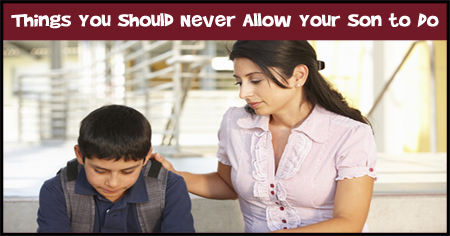 Usually, parents do not stop their sons from doing specific things thinking that it is not going to harm them or their lives. This is not true. Read on to learn about things you should never allow your son to do so that he grows up into a gentleman.
Parents want their children to be thoughtful and well-rounded, no matter whether it is about their son or daughter. Just like any child differs from another, your son may also differ from other kids on some aspect or another. You must have read and heard about what you should provide to your sons and daughters, but here we are trying to show some light on the aspects you should avoid and never allow your son to do certain things.
Things Your Son Should Not Do
Here are certain things which you should never allow your son to do.
1. Skip Household Chores
Doing household chores is not just the responsibility of girls only. Even
boys
should be encouraged to do household chores. A sense of responsibility will not only save him in school life, but also make his home life smooth. So, assign some regular tasks to your sons and make sure you follow up. After all practice helps.
2. Hide Emotions
It is a common concept which is conveyed to boys that they should not show their emotions. Next time when your son is upset, let him express himself. Just make sure that he does not become
destructive
or out of control.
3. Shift to Lower Gear
Boys have lot of energy and if you stop them from running, climbing and being active, it would harm their natural growth. You simply need to direct their energy to right direction and teach your sons to remember the places where they need to lower their gear.
4. Stop Having Interest in Non-Boyish Activities
If your son likes dancing, let him take dance lessons. Do not laugh at his interest. Instead, you should support your child's passion and encourage him to deal with teasing from other people also.
5. To Go out Alone Before a Specific Age
Never allow your son to go out alone especially if he is quite young. It is always good to go out in a group when he plans for an outing. Dangers are lurking everywhere for not only girls but also for boys. Do not allow your child to take risk because he is a boy.
6. To Stay Alone at Home or in Hostel
May be your teenager son wants to stay back alone at home and let you go to the party or some gathering. Do not let this happen. On one hand staying alone might trigger a lot of bad habits in your son and on the other hand if he comes along with you, he will be socially active and develop social skill as well.
7. To Avoid Making Friends with Girls
Do not stop your son from being friends with
girls
. In fact, this will help him stay and feel normal when he meets any girl in his life. This also helps in keeping the adrenaline rush low in teenagers.
8. Stay Away from Adventurous Sports
It is quite natural that you want your son's
safety
no matter what. But if your son wishes to try any adventurous sports and his age permits it, let him follow his wishes. This will help him grow and strengthen his weakness also. But never ever let your child try adventurous sports which are not suitable for his age.
9. Disrespect or Make Fun of Anyone
Boys are often compared to stereotypes. Teach your son to respect everyone and especially girls and women because everyone lives and behaves the way they are taught and think is the best. We should not criticise anyone.
10. Misbehave in Public
Boys should not be allowed to misbehave in public. Boys should be taught to behave in public and especially with girls and women. They should be taught to offer seat and open door for women. Boys should be encouraged to imbibe all the qualities that a
gentleman
has.With the help of above tips you can help your son grow up into the right kind of man. Never allow your son to do gender discrimination. Raise him with unconditional love and care. Encourage and support him to chase his dreams. Aim at raising him as a well balanced individual.
Why should boys be restricted from doing certain which? What kind of things should not be done by boys? How to inculcate qualities of a gentleman in boys? Discuss here.