How to Propose a Girl?
-by Editor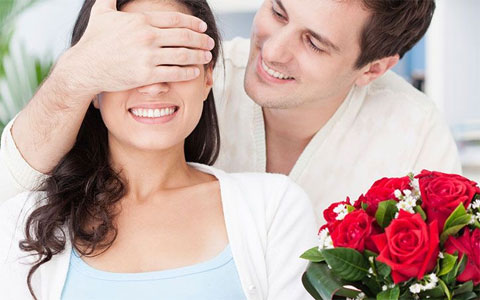 If you want to propose your love, you need not think twice. Do not delay, and propose her right away. Here is a help just for you if you are planning to propose a girl. Read on and find some helpful tips on how to propose a girl.

Are you in love with some girl and find it difficult to tell her? Are you confused how to propose her? Do not worry. You are not alone because almost every boy feels the same kind of nervousness. Here are some tips that will help you in proposing a girl. You have to remember one thing that girls are different from you and they differ from each other too. At the same time they are very sensitive also.

So, the first thing that you have to keep in mind is you need to propose the girl according to her temperament and nature and it should be completely unique way of proposing. You should not copy anyone's style or ask suggestions from your friends. Remember, they are of your age and have no experience of dealing with girls in such a sensitive matter.
Tips on How to Propose a Girl

Be Yourself

The first tip is to be yourself and never try to overdo anything. You can make it special and sweet even while keeping it simple. If you behave in your natural way, you will find that everything will get along smoothly and comfortably.

Know your Girl and Propose Accordingly

There are some girls who still want their beloved to propose her in that traditional way. If your girl is of that type you can bow down on your knees and tell those three golden words that she wants to hear from you, just to impress her.

Make Special Plans

Plan for a romantic dinner and make her feel special about her. Order her favourite dish and you can propose her either before dinner or during the time of dessert. You can play her favourite music as well.

You can take her to that place where you met her for the first time and recreate the same environment and scene. This will make her recall everything and when you will propose her, she will definitely get moved and will say yes to you immediately.

Create a Romantic Moment

Drive her to the beach and when the sun is just going to set, you can propose her. Girls like romantic moments and special occasions. You can play soft music while driving and make her feel that something special is going to happen with her that day.

Take her at a Favourite Spot

You can go to the spot where both of you wanted to go and the place both of you like very much. With the much loved environment around you, you can propose her.

Buy a Special Gift for Her

You can buy a charm bracelet or a ring and ask her 'Will you marry me?' while presenting it to her. Presenting a ring to her will help you convey your message with an ease. Go near her with a bunch of red roses or take her somewhere out and then propose her.

Proposing in a Unique Way

You can also talk to her parents and then in front of them, propose her. You can also propose her in your unique way and for this you should plan and prepare for the moment.

These tips will certainly help you propose her in a special and unique way and you will surely be able to win her heart. However, you should also be sure that the girl also loves you. So do not hurry in presenting your proposal, analyze your relationship and you will get indications from the girl you are dating. Now, go ahead and plan a date to propose her. Tell her what you have in your heart for her.

Do you want to make your love yours forever? Are you planning to propose your love? Are you looking for some tips for preparing yourself to propose a girl? To share your experiences, views, and tips, click here.
Name: ANIL KUMAR
City: Rajampet
Comments: Mm.. I love one girl names siri but I have one small doubt what if she reject me she is old than me but I love her I gave my entire life for her Please pray for my praposel will be successful I LOVE U SIRI
---
Name: Naresh
City: Gulbarga
Comments: ok i will try this trick
---
Name: Richard
City: Kwadaso
Comments: I love some girl but I don&acutet know how to propose to her and beside that she is older than me but I love her So guys help me
---
Name: Ravi
City: Bangalore
Comments: Actually, mujhe propose kaise krna hai ,AK tips, Mere pyar succes nhi huwa , Krupa ek rasta way kya hai
---
Name: bob1
City: yes
Comments: ok i will do
---
Name: Francis
City: Kumasi
Comments: Please I need words to propose to girl please and please
---
Name: Kwabena Yoghurt
City: Nyanyano
Comments: Guys Please I Have A Serious Crush On Some Girl I Propose To Her But She Said She Is An SHS Student And I Propose To Her The Second Time No Reply But Now She Dont Answer My Call Please I Need Three Golden Words To Make Her Love Me More.
---
Name: Binay Thapa Magar
City: Kathmandu
Comments: I love one girl but don&acutet know how to propose I always feel nervous to say her three magical word please help me
---
Name: HOPE GRIM
City: ACCRA
Comments: HOW TO DATE A GIRL FOR THE FIRST TIME
---
Name: Subin.
City: PALAKKAD
Comments: I have seemy crush and take Rick to talk the girl and I will not propse him but iam now still waiting for there result
---
More