How to propose a guy?
-by Editor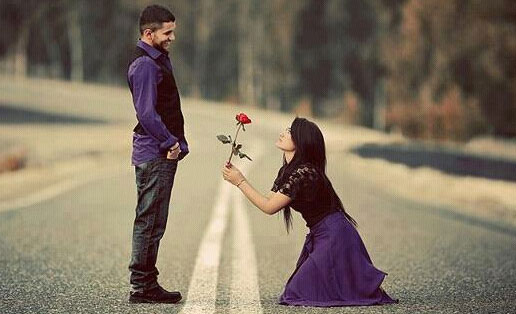 Although, the act of proposing someone is already labelled as a guy's job, you as a girl should never feel hesitant to do it. Today, girls are ahead in all walks of life. So, if you have found that perfect someone, go ahead and propose him. Listed below are some interesting ideas.

It was her first day in college. Pooja bumped into this cute boy on the first day of college. They soon became friends. As time passed she realised that she had a soft corner for him. Slowly it got hard to ignore the hidden feelings. She wanted to confess to him that she considers him more than a friend but she did not spill the beans. She kept thinking that it is unusual for a girl to propose a guy. She always thought that proposing is a man's job and girls should not make the first move.
If you have the feeling you should make way for them instead of hiding them beneath your heart. It is better out than in. Girls may hesitate to propose a guy as they do not know how to propose a guy? It is believed that men do not cry but men too are emotional beings and who knows you may be dating the guy of your dreams after learning how to propose a guy.
Is Proposing Only a Man's Job?
Many women still wonder if it is right or wrong to propose a guy. It is the 21stcentury and we believe in men's woman equality. Tradition believes that it is a man who first asks out a woman for a date but now the scenario has changed. People raise their eyebrows in astonishment when they hear stories of a girl proposing a guy. But it is perfectly all right for a girl to propose a guy. Just consider some important things before you pour out your heart to the man you love. Here is the list of things that you can consider.
1. Choose the Right Time
How about proposing a guy on
Valentine's Day
? Choosing an appropriate day to tell your feelings to a guy, will make proposing easier. Apart from 14th February, you may pick up some other important days such as his birthday, a New Year's Eve or any other jolly occasion to let him know you
love
him. If you are going to propose your boyfriend for marriage the day you first kissed or the day you first met will be the ideal date to pop the question.
2. Choose the Right Place
Guys can be sentimental at times. Avoid picking up a crowded place to propose him. Proposing at the crowded place may put both of you in an awkward situation. Places like shopping malls, coffee shops, and theatres are not the right places to propose a guy. Choose a place that would be quiet. Make sure the spot you have chosen to make your proposal should provide some privacy. Places like gardens or beaches can be perfect to propose a guy.
3. Make it Romantic and Memorable
It may sound clichéd but bending down on your knees and proposing to your love with a ring is still considered very romantic. Doing so will melt his heart and he might express his love for you right there. You may toss a question at the place where you met for the first time. The fond memories will flood both of your hearts embracing you with the truest feelings of love. Your proposal should be passionate and romantic. A yes or a no is may be dependent on the way you propose.
4. Ask the Question
Be calm before asking the question. Tell him that you want his full attention as you want to tell him something important. Make him prepared for the moment and then pop the question. Look into his eyes and make way for your feelings. Tell him that you love him. Tell him why you love him. Ask him what he thinks about being in a
relationship
with you. He might need some time to digest what you said. Do not force him to accept your proposal. He may need some time.
5. Say it With a Love Letter
Love letters can never be passé. In the age of e-mails, a love letter is a rarity. One can put forward his or her feelings elegantly through written words. If you are feeling awkward to tell him your feelings you can always use a love letter. You need not use flowery language while composing a love letter. Just write whatever you want to convey to him. Lay your emotions on the paper. He will get time to think about your proposal. It will make it easier for you too.
6. Be Prepared for Rejection
Make yourself ready for rejection too. A person whom you love doesn't need to love you back. Respect his decision come what may. If he is destined to be with you, he will be with you anyways. Otherwise accept the rejection and move on. You may get someone much better.
7. Think of the Ways of Coping
If you feel that you won't be able to accept the rejection, you can think of the other ways to convince your guy. Think about the second step in case if your first proposal gets rejected.
8. Get Into the Shoes of the Guy
It is very important to get into the shoes of the guy you love to understand how he will feel when you propose him. Before saying those golden words to him, do a thorough study of his background, his choices and his temperament.
9. Make Your Guy Feel Better
When you will be proposing your guy, make sure that you make him feel better. If he is already pressured or stressed, try to make him feel easy. Send him positive and cool vibes. Discuss a few things that will make him feel comfortable and relaxed. Always focus on trying to make your guy feel special and important.
10. Stay Positive
Although, you must have thought about 'Plan B' always stay positive. Create good thoughts before you propose your guy. Always think about positive outcomes.
11. Think of Creative Ways
It is a dream of everyone to get a proposal from the love of his or her life in a creative way. So think of some of the creative and interesting ways to propose your guy. Listed below are some interesting and creative ideas to propose a guy.
Ideas to Propose a Guy
When you have feelings for someone, you should convey them to the person you love. Here are some unique ideas to propose to the man you love.
Go on the beach together and write the words 'will you marry me? Or 'will you be mine?' on the sands.


Bake him a cake and engrave your feelings with cream.


Send him flowers with a love note. Who said boys do not like flowers.


Go traditional. Bend on one knee, present him the ring and say those three magical words.


Order some juice and put the ring at the bottom of the glass. He will be amazed to find the ring.


Make a handmade greeting card and write what you feel for the guy on it.


Go on the rooftop or terrace on the full moon night.


Sing a love song.


Nowadays, it is very easy to get the banner printed. You can get the banner printed for your guy to propose him.


Go on a long drive.
An anonymous author has said that love is like a war, easy to begin but hard to end. If his answer is a no then it is obvious that you will feel terrible for a few days. Time is the best healer. If he accepts your proposal, it will be a dream comes true. Nurture your relationship with love and care. So, churn your mind and come up with a creative idea to propose him. Let him remember the day throughout his life. So stop waiting for Cupid and shoot your arrows of love.
Have you ever proposed a guy? Are you planning to propose a guy? What if the man you love does not accept your proposal? To share your views and experiences, click here.
Name: anon
City: Bengaluru
Comments: Seriously, just go for it, via text, a note, email, whatever. Just say you like them. As simple as that. Worst thing that could happen, &quotmeh, I don&acutet like you&quot. That&acutes all. Perhaps, you could be friends. One important thing, don&acutet be disappointed if he&acutes hesitant. He&acutes just probably insecure. He&acutell say yes, even if it&acutes later. Try asking later if you doubt this.
---
Name: Kirti Periwal
City: Delhi
Comments: I luv a guy so I want him to come in a relationship but I tried many times to do but I don&acutet get the right time N place so after reading this article I came to know Thanks 😊
---
Name: md faheem
City: HYDERABAD
Comments: i love girl but she not love me.i am perposal but she not accept my perposal.
---
Name: Shalini
City: Malaysia
Comments: i love a guy,he was to humble and being kind to me. i already proposed to him,but he rejected me because he told me he need to achieve his life goals first.... until now m waiting for him..but i really wanna him achieve his goal while having me in bis life!...i really dnt know how topersuade him!!??
---
Name: Ritu
City: Delhi
Comments: I really love him want to get married but i am not that strong to share my feelings with him
---
Name: radhika
City: ahmednagar
Comments: I have fallen in love with my closest freind and he knows dat, but for our family we both are not taking next step and also he says dat he has crush on other girl. tell me how I should handle dis situation... I m dying for him..... plzz hlp
---
Name: shinthia
City: Dhaka
Comments: A guy showed me his special feelings. Then slowly slowly I fell in love with him. But the prob is he is my teacher and some of my friends poke him about us. That&acutes why nowadays he is avoiding me. It&acutes hurt me. How can I get him in my life???
---
Name: yogita
City: nagpur
Comments: This is fake
---
Name: rakhi
City: haridwar
Comments: I m in college in 1st year. I lyk a guy in 3rd year of my college. I met him in our cumity. w use to tlk on watsaap. I use to flirt wid him, he too du it.... bt whnevr I indirectly ask him if I wud propose him thn wat he wud say then he alwys replied that I m his gud junior.... I dnt know shud I propose him or not bt I can&acutet cntrl my emotions more what shud I du??
---
Name: Mehair
City: Mumbai
Comments: I m in love with a boy of my area. Whn d first time v met I scolded him in front of all his frnd to dash my car. He didn&acutet say anything to me n was sorry for wht he did. Since last 13 months we r seeing each other n i hv felt in love with him. All my frnds hv also noticed him seeing constantly at me. But v haven&acutet talked with each other. Most of the time he be&acutes in delhi i die to hv a look of him. Five me suggestions wht should i do now. Should i propose him
---
More