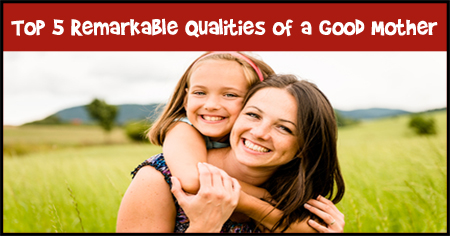 Every mother puts her 100% effort to be a good mother to her children. Have a quick look at the top 5 remarkable qualities of a good mother.
We often read the word 'good mothers.' while browsing through the newspapers and internet or while watching television. Every mother loves her child and does her best for children, so in a way all of them are good mothers. However, there are a few qualities which make a woman stand out.
Importance of a Mother in Child's Life
A
mother
loves her children the most. It is said that 'God could not be everywhere, hence he made mothers.' How true! A mother who loves her children a lot and does anything to
ensure that they are happy
is worthy to be called a 'good mom.' I It is a myth that only rich or highly educated and successful women are 'good mothers.' That is not at all true. Every mother has the ability to love her child. Even a poor and illiterate woman sacrifices her meals so that her children do not sleep hungry. Even a housewife who ca not work does her best to love her kids.
Qualities of a Good Mother
Let us take a look at the top 5 qualities of a good mother.
1. Good Mothers Find Time for Their Kids
A mother who finds time for her kids is the best kind of mother.
Spending time with children
is very important for their overall growth and development. In today's world, there is scarcity of time. Some women do not devote time for the child. They are so busy that they tend to neglect the children. Good mothers ensure that they spend enough time with the children without ignoring their needs.
2. Good Mothers are Their Child's Best Friend
They say one of the best ways to be a
good parent
, is to be your child's friend. A child who feels that mom is a friend will be ready to share anything with her. He or she will be very comfortable with her. It is necessary to discipline children when they are young and get strict occasionally. However, as children get older, it is also important to be a friend to them. A good mother is her child's best friend and she will love her children regardless of anything.
3. They Correct Mistakes of Child with Love
Love is a great bonding factor between mothers and kids. Any mother, who shows love and affection to her kid, is indeed being the best kind of mother. Often we read stories in the media of children being abused and hurt by their own mother or father. A real 'mother' can never hurt abuse or neglect her child. A good mother accepts her children as they are and loves them regardless of whether they make
mistakes
or not. Every human being makes mistakes and children are the same. It is important to correct the mistake but it is not right to hate your kid for the mistake.
4. Good Mothers Ensure that the Atmosphere at Home is Good
A mother who ensures that the atmosphere at home is pleasant is a wonderful mom. There are many houses where parents fight and yell at each other in front of kids. That leaves a negative impression on kids. The atmosphere at home plays an important role in the growth and development of a child. A happy and nice atmosphere ensures that children grow up in a good manner whereas a negative atmosphere leads to children feeling insecure.
5. A Good Mother is Always Available for Her Children
A good mother always makes sure that she is available for her children whenever they need her. At the same time she is efficient in fulfilling all the needs and requirements of her children. For a good mother, her children are her top priority.Thus, we can see that anybody is worthy enough to be called a 'good mother.'It is not necessary to earn millions of rupees or become famous in order to be classified as a good mother. All one needs to do is be the kind of mom who brings a smile in her child's eyes. For a good mother if a child has a great day and is happy then it is more than sufficient. If you are a hero in your child's eyes and if you have done everything possible to ensure that he or she is able to lead a good life, then you are superb in every way.
How to be a good mother? What are the unique qualities of a good mother? Which parenting mistakes should mothers avoid in order to become a good mother? Discuss here.