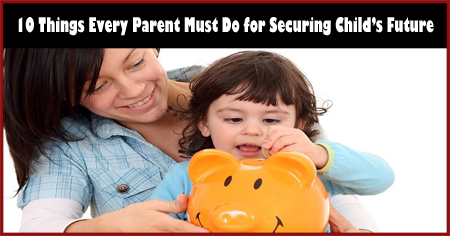 Taking right steps is essential to ensure that a child's future remains secured even during unforeseen events. Read on to find 10 tips which you can follow to secure your child's future.

The world has a battlefield nowadays, with the cost of education steadily rising at 12 percent a year. Starting from kindergarten to professional courses, children's education is a priority in each family. Parents now look for the best school in the city, try their best to protect the child from all threats and provide the best
education
for their child.
Times have now become different when our elders had low competition to deal with low competition and ever lower fees in government institutions. But with the establishment of more private school and colleges, parents need to invest as it is difficult to estimate the cost of a child's education at an early age.

1. Identify the Requirement and Start Early
One should consider all the aspects of a child's education which does not include just the school fees but goes on to cover tuition fees, transportation, and extra-curricular activities as well. The rise of the cost of education along with the decreasing value of money requires more planning.

2. Start Planning As Soon As You Can
An early start always yields better results for you as it prevents the shortage of the amount at the last minute.By starting early, delays would not be problem if certain
financial
surprises turn up at the last minute.
3. Save for Your Child's Life Experiences

A child's life does not simply consist of education, but goes on to include vacations,
hobbies
and marriage. Child insurance plans though provide protection in case of any untoward happening, but require a high contribution for its use. Therefore, investing in a pure term policy or by assessing your insurance needs, you can secure the future of your child.

4. Asset Allocation

There are so many investment avenues and it is extremely difficult to choose one. Each one has its own risks which creates more confusion in investments. Moreover, it is equally important to consider equities, Debt MF, PPF,
Gold
and Fixed Deposits as a way to save for your child. Therefore, one should go for asset allocation which helps you choose the asset classes and manage your investments efficiently.

5. Create a Children's Savings Account

The concept of a piggy bank has now evolved into a separate account for children altogether. Some banks allow creating a child's account on the child's behalf. Such accounts require the child to manage the account once they are seven years of age. This is a great way to teach your child about the benefits of managing
money
wisely and saving, which would greatly help him or her in later life.

6. Create a Savings Account for Older Children

Teenagers can also open bank accounts of their own when they first start earning and invest in money. Opening an account requires a little amount of money and in some cases your child can take out whenever he or she wants. Make your child self-aware of money so that he or she can start planning on getting his or her first job.

7. Write a Will in Advance

To avoid disputes in future, write a will nominating your child to be the inheritor of your money after you. To ensure the complete obedience of the will so that he or she receives the benefits, give the details in a clear and comprehensive manner.

8. Appoint a Guardian

In case of a specially-abled child, it is best to appoint a legal guardian who will take informed decisions in your absence. You can bestow limited guardianship if you want, such as on medical care. Consult a lawyer and have a legal agreement made and duly signed by both parties.

9. Invest in a Child Health and Education Plan

With increasing accidents and illness, health and education are the priorities. To ensure that your child receives proper medical care in your absence, invest in a good child's health plan. For education as well, spend judiciously to let your child dream freely. Make sure that your spouse and your child know about the provisions that you make for him or her.

10. Create a Trust

For a very young child, you can create a trust by appointing a legal guardian. You can either approach a family member or an institution as a trustee, but make sure you are confident about the person's character, trustworthiness and capability. Assets could include real estate, equity or debt investments made for your child.
Therefore, we see that an early planning and investment in your present capital will work wonders for your child later on. Be sure to go ahead with such plans only after complete knowledge about them to avoid hassles in the future. With some discretion, saving for your child can be one of the best gifts you can give your child for life.
What are the ways to secure child's future? Which investment options can parents choose to secure child's future? How can parents choose good education plans for children? Discuss here.