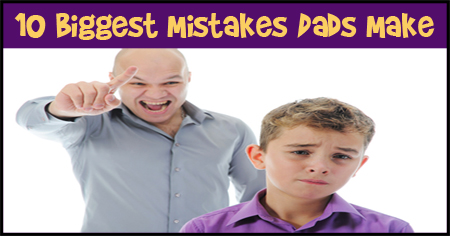 Becoming a dad seems a life changing moment forever. Most men do not have any actual experience of handling children but almost all assume themselves pretty qualified to be a dad. Read on to learn about the 10 biggest mistakes dads make.

When a person becomes a dad he gets lots of advices which include what he should do and what he should not. Dealing with a child and associated practical difficulties are often above the general advices. You have to understand your child and situation and then react or take care of things. However, doing this, dads make mistakes and some of them are most common ones.
Biggest Mistakes Dads Make

Let us take a look at the biggest mistakes most of the
dads
make.
1. Disagreeing With Their Spouse's Disciplinary Action
It is quite natural that you sometimes disagree with your spouse's action or reaction, but disagreeing with her publicly will spoil her credibility. Try to air it privately and share the child discipline role together.
2. Not Helping Moms With Household Chores
Most of the dads think that household chores are the responsibility of moms only. So they do not do anything when it comes to household chores. But if they lend their helping hand it will much easier for moms to take care of the house as well as kids. They will also get to spend some
quality time with kids
.
3. Being Engaged In Competitive Parenting
Every dad wants his child to be the best and on the top. The biggest mistake is when dads have competitive streak which can increase
pressure on children
.
4. Not Enjoying the Wonders of Childhood
Raising small children is very hard and even monotonous. But dads should remember that one day there would not be childish activities in their homes when children grow-up.
5. Being Confused As Dads
Do not try to get your child's approval for certain disciplinary action. Just keep in mind that you are the father and your word should be final and non-negotiable on any disciplinary matter.
6. Losing Temper
There is no doubt that children at times make you crazy, but on the other hand one of the biggest mistake dads make is that they lose temper at wrong time. Just keep in mind that you should never
discipline
when you are angry.
7. Inconsistency
Dads discipline their children in an inconsistent manner. The same behavioural problem is dealt with different styles at different times. This makes the child confused. It is better to have certain set of rules which should be made clear to your children and you along with your spouse should also keep in mind and follow accordingly.
8. Applying Too Much Pressure
Every dad wants his child to excel and become an all-rounder. Children become overwhelmed and often it worsens the situation.
9. Using bribes
Often dads
bribe kids
so that they behave in the manner they want their kids to, especially in front of others. Instead, you should remind your child how good it feels when they behave in well-mannered way in front of others.
10. Lecturing
This is one of the biggest mistakes that every dad makes. Lecturing your child on a specific behaviour and its impact or consequences is of no use because it results in resentment rather than learning. The best way is to have a dialogue with your child and find out the reason why his or her behaviour was bad.
In addition to the above 10 mistakes, comparing your child with others is also one of the biggest ones that often result in reverse way in long term. No matter whether the comparison is among your own children or children in neighbourhood or of friends, it is going to affect them adversely. Remember, every child has unique strengths and talents. It is up to you how you use them and make them aware of their strengths.
What mistakes are commonly made by dads? How do parenting mistakes made by dads affect children? What is the role of dads in the upbringing of children? Discuss here.