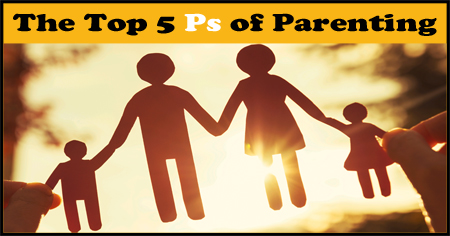 Follow these 5 Ps of parenting and become an efficient and a better parent. Read on to know more about the 5 Ps of parenting.

Parenting is definitely not an easy job as it entails a lot of sacrifice, patience, forbearance and love mixed with copious doses of
discipline
. This is one of the toughest and the most rewarding role you will be asked to play in your life. Here are 5 rules or 5 Ps of parenting that could help you become a better parent.

1. Preparing for Parenting
Parenting entails huge amount of preparation and mental discipline as raising a child is no easy task. It is easy to think of your baby as an angel of joy but it is difficult to remember (before becoming parents) that this angel will wake up at all unearthly hours and has to be cared for meticulously.
Good parents generally prepare themselves mentally ahead for the huge change that is about to come in their lives. The more solid the preparation the easier it will be for you to embrace the role of your parenthood. You could start off with envisioning your schedule as it will become after the arrival of your baby and thinking of the lifestyle modifications that needs to be made.
2. Performance Management
Typically parents spent a large part of their time analysing and examining their kids' performance on several contexts; school, extracurricular activities, sports, social activities etc. The moment a kid underperforms in any of these areas the parent immediately becomes concerned and demonstrates the concern in a demanding way. However,
good parenting
entails shifting the pressure of performance from kids to parents.
Parents should dedicate some part of time in analysing how well they have been performing as parents and how successful they have been in creating a bond of love between themselves and their kids.
3. Pressure Handling
Sometimes parents fail to understand the huge amount of pressure that kids are subject to at school and elsewhere. There is peer pressure, social pressure, academic pressure and expectations levied on them by their parents. Sometimes all this accumulated pressure is too much for the kid to handle. As a good parent one of the best things that you could do for your kid is to teach tricks of managing pressure.
Try to understand the concerns,
anxieties
and worries troubling your kid and you will be able to feel the burden of pressure. Teach your kids the difference between expectations and over-expectations and coach them on the skill of handling pressure.
4. Protection
Protection; both emotional and physical is one of the primary duties of parents. The world is not a safe place for kids and bullying, abuse, exploitation are burning issues which kids have to grapple with. As a parent you could teach your kids about defending themselves from external evils.
Teach them effective techniques of identifying bullies and spotting sexual predators. Teaching kids the difference between appropriate and inappropriate touch is also one of the most important things that a parent has to do.
5. Perception
Perception management has become very important especially in today's context. Parents have to constantly battle against perceptions set by the society, by peers and sometimes by kids themselves. For example, your kid might harbour the perception that it is mandatory for parents to buy the latest video game version each time. This perception may have stemmed from things they have seen at school or heard of from the Internet and Television. As parents you have to make children understand the difference between
needs
and wants and the skill of differentiating between the two.
Now that you are aware of the 5 Ps of
parenting
it will become easy for you to implement them and become a good and more responsible parent.
What are the benefits of following the 5 Ps of parenting? Is it possible to be a better parent by following the 5 Ps of parenting? How do kids benefit if parents follow the 5 Ps of parenting? Discuss here.